For the second year running mikedolbear.com will be co-sponsoring the biggest Drum show in the UK. After the tremendous success of our master classes last year we've kept the same format for this years master class room with, as ever, a very strong line up. The mikedolbear.com master class room will play host to four of the top players in their respective genres allowing you to listen and learn from the masters. Education is the focus of our master classes and with seating limited to 75 people there is plenty of opportunity to ask questions, see the action and chat with these artists.
Ralph Salmins – Session Drumming Part II (sponsored by Gretsch, Sabian, Remo, Vic Firth)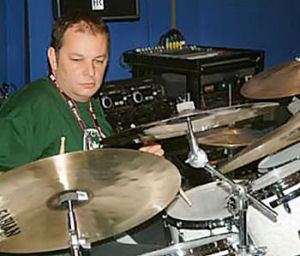 Back by popular demand after last year's successful clinics, here is a chance to watch one of the UK's finest drummers close-up. A brief glance through his diary, you wouldn't believe session musicians were a dying breed!
Ralph's sheer groove and incredible versatility have made him the drummer of choice for producers and composers worldwide. Artists he's worked with in the studio include Madonna, Macy Gray, Alanis Morrisette, Sheryl Crow, Celine Dion and reputable producers such as George Martin, Burt Bacharach and Michel Legrand - the list goes on and on. Some of you may have heard his work in movies soundtracks such as 'Harry Potter', 'Bridget Jones Diary', 'Donnie Brasco', 'Philadelphia' and the Oscar winners, 'Gosford Park' and 'Moulin Rouge'.
Ralph will be continuing on from his masterclass last year where he will be giving an overview of session drumming, how to get in to it and how to do it. If you want to be a session drummer, who better to get tips and tricks from than one of the busiest on the scene. Make sure you're in the queue nice and early for this one...
Show times:
Saturday: 12.30pm – 1.30pm
Sunday: 10.30am – 11.30am

Adrian Erlandsson - Hard and Heavy (sponsored by Pearl, Sabian)
The 'Cradle Of Filth' and 'At The Gates' sticksman shows all the budding rockers and metallers how it's really done in this master class of rock drumming. Fast and heavy does exactly what it says on the tin!

Approached initially to work on a session by Cradle of Filth at the Dynamo gig in 1999, Erlandsson was asked to join the band two weeks later. His stamp on albums "From The Cradle To Enslave", "Midian" and "Bitter Suites To Succubi", made an instant impression on the heavy rock community.

If hard and fast is your thing, or you'd like to see how it's done, you'd be a fool to miss this unique opportunity to steal the licks of one of the genre's best players.

Show times:
Saturday 11.00am – 12.00pm
Sunday 12.15pm – 1.15pm

Billy Ward - Big Time Live (sponsored by Drummer Mag)
Billy Ward has made waves for years in the USA, but came to prominence to a wider audience with his appearance at the Modern Drummer Festival 2000. His performance showed why Billy is called on by the likes of Joan Osbourne, Carly Simon, Richard Marx, and Yoko Ono.

Billy's master class will be taking concepts from his (frankly superb) DVD Big Time (signed copies available on this website) and expanding on them for a live audience. The ideas include the use of imagination when constructing drum parts and metaphysical aspect of playing music.

His years of teaching experience will make this an event that isn't going to be easy to forget.

Show times:
Saturday: 3.30pm – 4.30pm
Sunday: 3.00pm – 4.00pm

.

An Audience with Vic Firth
A chance to meet and greet, (and pick the brains of) one of the most important people in the drum industry today.

As well as being one of the most incredible characters Vic is also one of the most highly respected timpanists on the planet. Vic Firth joined the Boston Symphony Orchestra in 1951, the average age of a BSO member was fifty-five – Vic was twenty-one! Vic Firth, after his fiftieth season with the BSO, holds the distinction of having been in the orchestra longer than anyone else. Quite a feat.

Alongside all of that, he also makes more drumsticks than anyone else in the world!

Show times:
Saturday: 2.15pm – 3.00pm
Sunday: 1.30pm – 2.15pm

Show Times

Saturday

Sunday

Adrian

11.00 – 12.00

12.15 – 1.15

Ralph

12.30 – 1.30

10.30 – 11.30

Vic

2.15 – 3.00

1.30 – 2.15

Billy

3.30 – 4.30

3.00 – 4.00

All master classes will be on a first come first served basis. There is no pre-booking. The master class room has space for 75 people maximum which will allow you to get up close to these amazing drummers.
mikedolbear.com will also be launching the annual Young Drummer of the Year competition at the show and will also have a shop selling a huge array of DVD's Videos, books and T-shirts.
Visit www.drummerlive.co.uk for the full line up and to purchase your tickets.
We look forward to seeing you there!