NAMM 2006 In Depth Review Part 2 - Cymbals
Istanbul
Now, Istanbul is a name we have mentioned before but not really had a good look at. Being a very traditional cymbal company, they had no massive launches, but did have a good representation of their current cymbals. The Alchemy range is aimed more towards the heavier player and is generally brighter, thicker and with a brilliant finish (think A Customs). The Traditional range is darker and aimed more towards jazz and lighter players (more K like). They had some beautiful 24" dark, jazzy rides and some incredible versions of… (ahem) …err… older Turkish cymbals (Istanbul 09). These aren't new copies, merely (merely?) cymbals made in the way that cymbals used to be made in Turkey and they certainly have the right sound to them. These cymbals should have had a massive price tag, but are very reasonable.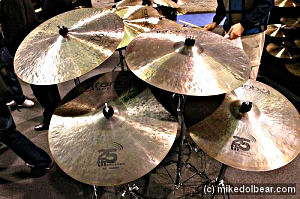 Istanbul Special '06' Rides
Istanbul also had some special '06' rides that sounded beautiful (Istanbul 05 / 06 / 08) and had a slightly blue finish. If you are into your jazz cymbals, these should be top of your list to check out. As with all handmade things, you may need to try a few to find the one that is best for you as each one does sound slightly different. Of course, they still have their signature Mel Lewis models that are possibly the most archetypal 'jazz' cymbals around.
Istanbul is one of the few cymbal companies to make their products just how they used to in the 'good old days'. There's no computers adjusting the metal content, CAM hammers doing the hammering or any of that nonsense (!), it all down to a few men in a small, very hot room, with a few hammers. They only got electric lathes ten years or so ago. We are talking hand made in the very real sense of the words, rather than what goes for 'hand made' nowadays.
They have three main lines, Traditional (see above), Custom and Signature. The Traditionals are divided into the standard models definitions like hats, crashes, rides and effects. The Custom line is divided up into Turk (dark, unlathed and trashy), Sultan (with bands of lathing/unlathed metal in a distinctive concentric circular pattern (Istanbul 10)), Vezir (limited models, aimed more at jazz players, 80% of the range are rides), Empire (featuring an unlathed centre section), Ottoman (drier but similar to Turk, with concentric lathing) and Pasha (featuring an unlathed outer ring). The Signature line has the previously mentioned Mel Lewis models, Agop (named after Agop Tomurcuk and made using vintage hammers and lathing tools to designs from his 'little black book' - all unique and original cymbals) and Special Edition cymbals (very dark, trashy cymbals based on the Mel Lewis and Agop ranges). As well as the 'kit' cymbals, Istanbul also do gongs, band and orchestral cymbals. I am amazed they have time to do it all. If that older sound is what you look for, look here. In the UK, contact BR Distribution.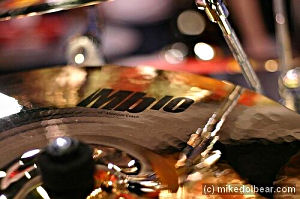 Meinl MB10
Meinl
Meinls big launch was the MB10 range (Meinl 02) that fits in above the Amun and below the Soundcaster ranges. They look just like the MB20 range with unlathed bells and fine lathing on the bows but a lighter, more flexible sound for all styles of music rather than the heavier end that the MB20s are aimed at. The MB10s sound very similar to the MB20s to my ears but are lighter, brighter and aimed at more general use rather than the heavier use that the MB20s are aimed at. They have a similar 'expensive' character to them but cost much less. The range covers all standard cymbals – hi hats in 14/15", splashes in 8" to 10", chinas in 17/19" (which have a deeper profile than Meinl's normal chinas), crashes from 14" to 20", rides in 20/21", but also have a signature Jason Bittner Bell Blast Ride in 20" which has loads of definition as its very heavy with a pretty high pitch with the most cutting bell I have heard in a long while. Medium weights only will be available in 2006 with the range being expanded in 2007. (Meinl 01)
The MB20 range gains a Chris Adler Pure Metal Ride (Meinl 03), which got much attention, as it is 24". It's a bit of a monster, and sounds just like you would expect such a big, heavy ride to sound. Due to its size, it comes with its own 24" cymbal bag (which will be available separately). There are also some new Medium Heavy crashes in 16 and 18", Medium Heavy Ride in 20" and 20" Rock China.
The Byzance range gets three new Thin Brilliant crashes in larger sizes of 16-18" to add to the 14 and 15" that are currently available. Medium Brilliant crashes in 21", Regular Chinas in 14" and Brilliant Chinas in16" are also new.
In the Sound Caster range, there is a new Distortion Splash that to my ears sounds similar to the Paiste Flanger Bell. It has a very thick outer rim and you can feel where it suddenly gets thinner. It sounds like a chime rather than a splash with a limited frequency range (not much high end). Strange, but it may be just what you are looking for.
Meinl have been reorganising their ranges, so some of the Classics models and sizes have disappeared altogether. The MCS range is only available in box sets now, rather than individually as well.
Orion
Brazilian cymbal makers Orion were showing their new gear ( Orion 03 / 04 / 05 / 06 / 07 / 08 / 09 / 11 ). Their loud, hand hammered Strondo line gets three rock crashes and some nice, heavy 15" sound edge hats ( orion 10 ), the Exotica line gets Sun and Moon Chinas (very nicely trashy (Orion 02)) and the Serie Peronalidade (Personal Series) gets a ridiculously heavy 22" heavy ride (with a distinctive black band around its edge (Orion 12)), 15" hats (or Chimbal as they call them also with the black band)) and Attack crashes in 17-19". Orion are really going about their cymbals in a different way. They sound similar to some Meinls and Paistes, but have a very reasonable price tag. In the UK contact Music Shipping if you want something a little different.
Paiste
The new Alpha Pro range has 38 models (Paiste 14 / 15 / 16 ) and sounds surprisingly good, many times better than my memories of the original Alphas. These sound closer to the 2002s to my ears, though they are made from the same 2002 alloy, so that may be something to do with it. However, the difference is that they are hammered in Germany, which brings the price down (isn't the world strange? It's CHEAPER if they get hammered in Germany?). Paiste were showing the new cymbals on kits that had the range's logo on the drumheads, which looked way cool (Paiste 17 /18 ). Apparently they have a new hotshot young guy responsible for world advertising, so expect to get bombarded soon.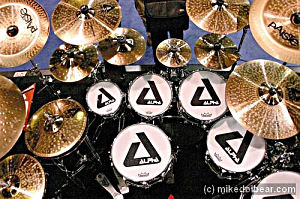 Paiste Alphas
The full range is…
Full Ride 20"
Groove Ride 21/22"
Rock Ride 20/22"
Heavy Ride 20"
Metal Ride 20/22"
Thin Crash 14/16/17/18"
Medium Crash 14/16/18"
Rock Crash 16/17/18/20"
Medium Hats 13/14"
Sound Edge Hats 14"
Rock Hats 14/15"
Thin Splash 8/10"
Metal Splash 10/12"
China 16/18"
But… also expect another load very soon…
Flat Ride 20"
Mini X Hats 10"
Rhythm X Hats 12"
Sensitive (yes, REALLY) China 15/17"
Phew, quite a few really. As I said above, they all sounded MUCH better than I expected.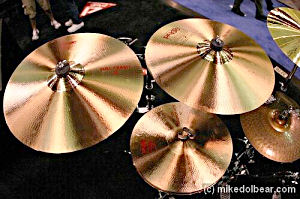 Paiste 2002"s
The new 2002 Wild Crashes (Paiste 08 / 09 / 10) are meant to be the strongest 2002 crashes around and come in 17, 18, 19 and 20". I was expecting a dull 'clunk', but they sounded very flexible and splashier than such a strong cymbal should. I can see these being the proverbial 'hot cakes' amongst Paiste aficionados. As they sound much thinner than they are, I would be interested to hear how these cymbals stand up to a serious beating. If Paiste have managed to achieve a really tough cymbal with a splashier/thinner sound, that would be rather interesting. The other new 2002s (Paiste 11) are the Paperthin crashes at the other end of the spectrum, which come in 16, 18 and 20". Some of the Dimensions cymbals have also been absorbed into the 2002 range. They are immediately recognisable by the funny hammering marks ( Paiste 12 )
&nbsp
The Signature range gets a Dark Full Ride in 21" (Paiste 20 / 21/ / 22), the New Signature gets Light Dark Hats Mark 1 in 14" (one of the longest, strangest and contradictory names in the cymbal world). The Traditional hats get a hammered bell in a slight change to there look but no major differences apart from that. Finally, the PST5 range gets a 14" Mini China.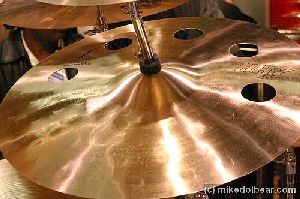 Sabian Legacy Ozone
Sabian
2006 marks Sabians' 25th anniversary so they were out to make a big splash with coffee and cake at their traditional 10am meeting on the first day of the show, with LOTS of endorsees and famous faces. I was standing between Dom Famularo and John Blackwell. Andy Zildjian had some interesting facts in his speech. Apparently when Sabian started in 1981, drummers could buy 300 different models of cymbals from all the worlds manufacturers (Zildjian and Paiste?). Now drummers have a choice of 35,000 (!) different models from all the different manufacturers, of which there are many more now than 1981.
Legacy is their new range, which is a subsection of HHX and has been created with the help of Dave Weckl. Apparently they knew they wanted to release these cymbals when they released the HHX Evolutions but they didn't want to flood the market with two new cymbal ranges. The Legacy cymbals are the 'dark side' of Mr Weckl's cymbal needs, being much darker and trashier and 'nastier' than the very bright Evolutions and they really couldn't be more different. Very thin but loud, with distinct oriental overtones, they have taken 4 years of research and development. Imagine very thin rides with massive china influences and crashes that sound underhammered and almost wobble when hit.
The range comprises 14" Hi-Hats, 10" and 12" Splashes, 17" and 18" Crashes (blinkingly LOUD), 20" and 21" Legacy Rides, a 22" Heavy Ride, and a 20" Ozone Ride. The last cymbal is particularly interesting as it has 5 large holes drilled into the back 'half' of it, in a similar way to the Evolution Ozone cymbal ( Sabian 09 / 05 ). Sounds REALLY dark and trashy. The 21" Legacy ride was so thin you could bend it with your hands as you could with others in the range. (Sabian 10)The unlathed band on the cymbals is designed to control the volume. They are pretty loud anyway, so I don't know how loud they would be without them.
Other new gear was the AA Raw Bell Dry Ride and the AAX Picante Hand Crashes and the Vault line gets some 14" hats which sounded like you would expect them to, following on from the crashes last year – crisp and bright (Sabian 11)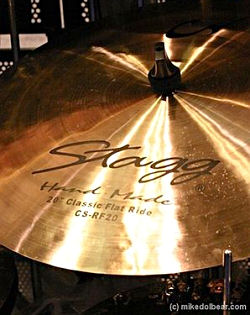 Stagg 20" Classic Ride
Stagg
Stagg were back with their 30" ride cymbal as well as a new series, the Classic. We still can't believe the sound to price ratio of these cymbals, they had bells and splashes that literally were a few pounds each (Stagg 05 / 06 / 07 / 08 / 09 ). Want a 30" gong to hang behind your kit? A little over £200 gets you a Stagg one (Stagg 16). They also had the cheaper DX range which is out to compete for the starter market and a new range of stands which are more ecologically friendly by using stainless steel tubing with no chrome plating. Could this be the start of an ecology drive in the music business? I know these aren't cymbals but they are worth a mention. (Stagg 15)
TRX
TRX are a new brand who we haven't seen before (Trx 02 / 03 ). I only managed to pick up a single catalogue about them, but they had caught my eye every time I passed the stand. The BRT range are brilliant finished and are in heavier weights, the ALT range are slightly darker with unlathed bells and a standard finish, MDM have a standard finish but are still obviously hand hammered, and finally the DRK range are heavily hammered, thinner, with unlathed bells, heavy lathing around the edge and wide lathing across the bow. I could only spend a few minutes playing these cymbals but they sounded like something that the major manufacturers would produce and come in a wide range of sizes and models. Lovely and bright with staggering good looks… Mike Dolbear? Nah, TRX cymbals. I hope we find out some more on these ones.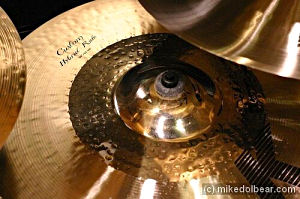 K Custom Hybrids
Zildjian
America's oldest company were showing 2 complete new ranges on their flash new stand. The first is the K Custom Hybrids that were created with Akira Jimbo (Zildjian 04 /05 / 06 /&nbsp11 / 12&nbsp). These are a range of 7 cymbals that are unique in the Zildjian line up as they are half lathed. The outer part of each cymbal is lathed in the style of 'normal' K Zildjians and the inner part is bright smooth and shiny in the style of the K Custom Rides. If you have seen any of Akiras latest DVDs, you will have seen the ride cymbal that inspired the range as he uses it in them. Apparently they were released in Japan as a limited range and were so popular that Zildjian decided to release them worldwide. The full range is 20" ride, 17 and 19" crashes, 9 and 11" splashes, 19" china (particularly lovely) and 13.25" (yes, really) hi hats. The hats have reversed Mastersound hammering on the edge so that more metal touches when the cymbals are together and are some of the nicest, 'stickiest' hats it has been my pleasure to play. Totally lovely. I have a feeling that this range would be unbelievably good recording cymbals as they are bright and cutting, without being overbearing, and they disappear almost as soon as they are hit. The crashes have the characteristics of cymbals three or four inches smaller than they actually are but with the volume and pitch of their respective sizes. The ride sounds thinner than it actually is with great stick definition, but can still be crashed.
The other range launched was the ZHT (Zildjian 01 ). These come in at the top of the sheet ranges and have an amazingly full line. You want a sheet flat ride or 10" mini hats? You got it in ZHT. Firstly they are made in a new alloy and secondly they have additional hammering. There are 38 models in the range and Zildjian have been stockpiling them at their warehouse with 35,000 to be shipped now. This really is a very comprehensive line…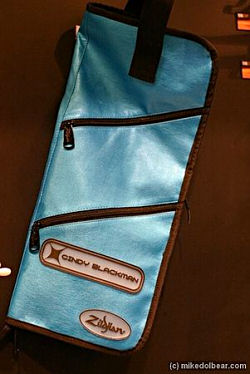 Cindy Blackman Stick Bag
Medium Ride 20"
Rock Ride 20"
Crash Ride 18"
Flat Ride 20"
Splash 8/10"
Fast Crash 14/16/18"
Medium Thin Crash 16/18"
Rock Crash 16/18"
Hi Hats Thin/Med 13"
Hi Hats Med/ Heavy 14"
Mastersound Hats 14"
Rock Hats 14"
Mini Hats 8/10" (inspired by Marco Minneman)
China 16/18"
EFX 16/18"
The EFX in particular is worthy of a mention ( Zildjian 10 ). It features three long oval slots equally spaced around the cymbal and between each one are four half-inch holes, three in a line and one above. They sound darkly trashy, and I can see these cropping up on hundreds of set ups for two reasons – they are great for crash riding on and they are cheap – the 18" retails at £127, so with the usual shop discount, that should be a steal. Very cool.
Zildjian were also showing some new sticks - Matt Sorum from Velvet Revolver and Taylor Hawkins from Foo Fighters (a 5B with a larger, more rounded tip), new Mezzo Multi rods with birch rods and moveable rubber rings, and new mallets. One of the coolest products of the day was the Zildjian cymbal bag made by Body Glove (Yes, really!) which carries cymbals up to 22", has internal separators and comes in two models – a back pack and a roller bag with castors and a telescopic handle. They are also making a matching stick bag, which joins the Cindy Blackman ( Zildjian 14 ) and Tommy Lee stick bags Tommy's being Desert Storm camouflage pattern ( Zildjian 15 ). Cool.
Who would ever have thought that accessorising for drummers would be such big business? Just to give you an idea, the new Zildjian Basic catalogue has 51 items, including pink caps, all sorts of wearables, Zildjian shot glass, drink coasters, coffee tumbler, socks and best of all… doggie T-shirts. No, not T-shirts with a dog on, but T-shirts for your favourite pooch. I kid you not.
Our final in-depth review which will follow shortly will cover electronics and percussion.
Words:&nbsp Simon Edgoose
Photos: Gerry McDonnell
Please log in below if you wish to add your comments on this item. If you are commenting for the first time, you will need to register for security reasons.