Istanbul Agop Mel Lewis Signature Cymbals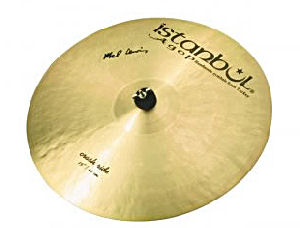 Mel Lewis Signature 19" Crash ride
Istanbul Agop cymbals are an old company with a new revival in manufacturing. Still based on the old Turkish traditions of handmade products by artisans they are well respected for their quality and, most importantly, sound. The Mel Lewis signature range is very jazz orientated but to really get a feel for these it helps to know something about the man himself.
Mel Lewis (1929 -1990) was a determined and opinionated man. His playing was respected by many greats including Buddy Rich and Louis Bellson and many others tried, but failed, to emulate his playing feel and musicianship. The self taught son of a drummer, he played from the age of three, he was professional at 15 and progressed to work with bop and big bands, including with Stan Kenton and his collaboration with Thad Jones. It is said that he is the first drummer to make the Kenton band swing! He strongly resisted the rise of rock music, preferring to pursue 'real music' where reading, dynamics and musicianship were still a requirement. Despite his great technique he was not a showman, preferring instead to play for the music to complement the band or soloist. His cymbal work is often quoted as being exactly right for the moment in the music where, for instance, he would use a low dark ride under a trumpet line to add a fifth voice to the four part ensemble. He is quoted as saying that every one of his cymbals is a ride cymbal and that every one of his cymbals is also a crash!
It seems that Istanbul Agop have followed this thinking in producing the Mel Lewis range. Included in the series are 20" ride, 21" ride with rivets, 19" crash/ride, 18" crash/ride and 13 and 14" hi hats (14" hi hats not reviewed here). Note how there are no 'crash' cymbals, only crash/rides in that category. All the models are quite thin and therefore have some flexibility. They all have medium to small bells which are quite flat in profile. On the top side the hammering is apparent but subtle with the lathing being the more obvious finishing on the cymbal. The underside has more defined hammering.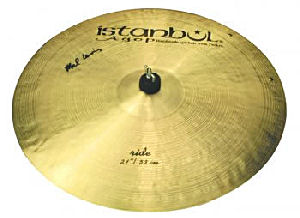 Mel Lewis Signature 21" ride
Ride Cymbals
The 20" ride is a quiet cymbal by modern standards. It is low and washy with a clear stick definition but only in small bands could this cymbal shine. As per Mel Lewis' own preference this cymbal is also a good crash, showing no gong tones or piercing frequencies. The 21" ride has two rivets within a few inches of each other. The cymbal itself is a lovely low dark cymbal but the stick clarity is better here than the 20". The addition of only two rivets is just the right amount to complement the metal of the ride without overtaking the sound. The sizzle provided is light and bright but not overwhelming. Here is a definite 'old K' sound.
Crash/Ride Cymbals
The 18" crash/ride is the most crash-like of the whole set, as it responds quickly and expansively with a dark swell underneath initial crash sound. It also serves well as a small ride, ideally as a break from the main ride during lighter solos. The 19" crash/ride has all these qualities in more abundance and with more dignity. As a ride it is clear but dark and low for its size. The stick definition is, in my opinion the exact right balance against the undertones making it seem easy to use. You can confidently play ride right across the dynamics without fear of being overwhelmed by wash. As a crash it also digs in when required but looses no character at low volume. The bell here also serves well, being low but clear and is the best bell of the whole set.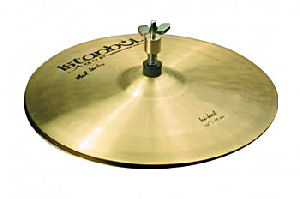 Mel Lewis Siganature Hi Hats
Hi Hats
I did not have a set of 14" hi hats to compare but the 13" are a little lacking for my tastes. The top hat of the pair is noticeably thin and has a clean, low wash when played alone. As a pair these are dark but quiet, any sticking getting a little lost in the wash when played open and played closed or with the foot the lack of projection led to me overplaying to compensate. Indeed, a bass player instantly noticed the improvement when I switched from these to my own hi hats which are thicker, brighter and clearer. I imagine the Mel Lewis Signature 14" hi hats to be more along these lines. I have often found 13" hi hats to lack in this area when they are this thin. I their defense I am sure these would sound great recorded where volume is less of an issue.
The whole Mel Lewis range seems to work as a collection of cymbals and they do conform to his own view of cymbals sounds and how they work within a band. At a push these worked for big band swing but the hi hats were not clear or loud enough for the band to work with. These cymbals would be much more at home in a small band setting. I found the most pleasure using these in a quartet when there was space and low volume where you could really hear the subtleties and work the dynamics. It is not often these days that you can use a riveted cymbal but in this setting I could not get enough of it! My favourite setup was using the 18" as crash and occasional ride, 19" as main ride cymbal and 21" rivet ride for ballads or as extra flavour in solos. And, of course, all these also crashed well.
To get the best from these you need the right setting and the right mindset. If you think like Mel Lewis, you can use these cymbals to great effect and maybe some of his choice cymbal work will start come out of you too.
Chris Dennis,
February 2007

Please log in below if you wish to add your comments on this item. If you are commenting for the first time, you will need to register for security reasons.