DrumFest Birmingham 2007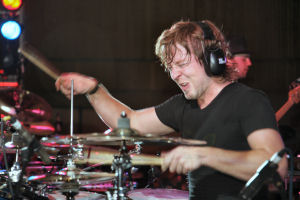 Karl Brazil - photo Jerome Marcus
A crowd of roughly 500 gathered in anticipation at Cocks Moors Leisure Centre, as PMT hosted a star studded drumming extravaganza. The hall was crammed full of all the latest gear from Yamaha, Roland and Zildjian to name but a few, but it was the drummers who were the real main event.
Local lad Karl Brazil kicked off proceedings, with a blistering set confirming his standing as one of Britain's top young drummers. He began with a 15/8 track, opening into a solo displaying his immaculate timekeeping and technique. His next track had a Celtic feel, citing influences from Stockton's Wing's "Fram Green". It is refreshing to hear a drummer who is famed for playing with James Blunt, talk about the impression folk music had had on his playing. Ray Loverock, a gritty bass player with a superb sound and feel, then joined him on stage and they played a Bodyrockers track that absolutely rocked. After watching both performances in the mikedolbear.com suite last year, and being instantly hooked on his drumming. It is evident that he has more confidence in his own ability now, with good reason. Follow that if you can.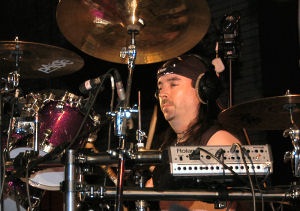 Dave MacIntosh
Dave MacIntosh was next up, playing his first ever clinic. He struggled initially with some technical problems, but the Dragonforce sticksman soon found his feet, blasting his way through a couple of tracks before pausing for questions. He then talked at length about changing his bass drum technique to allow him to perform better over longer periods. He also talked of the vigour's of touring, having just completed an eighteen- month world tour.
I felt that his new technique was still a work in progress, and it didn't sound as smooth as some of the other double kick work on display today. Was this the place to be trying out new things with the added pressure of a first clinic performance? Still a very accomplished set for his debut performance.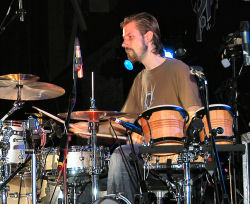 Benny Greb
After a short interlude, Benny Greb captivated the audience with his own compositions, demonstrating his multi instrumental abilities. He played along to tracks from his solo record 'Grebfruit' and showed his total control over the drum kit.
His two up, two down, tom set up enabled some impressive soloing, and even a dropped stick could not throw the German master. He had recently returned from a clinic tour of China, where the food had not agreed with him, but on this evidence you would hardly have known!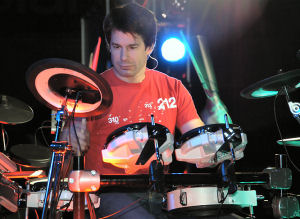 Johnny Rabb
Johnny Rabb is one of my favourite clinicians/educators, so I would have to admit to feeling slightly let down by the constant Roland sales pitch that was evident throughout his set. With seven artists on the bill, would this not have been more appropriate during one of the changeovers? His one handed rolls were impressive, but that was about it. I had hoped to pick up some teaching tips, as I have done in the past, but not much of that today. This is only a small grumble, as I know that the organisers must budget in quite a few Roland sales to balance the books at these events. We should be grateful for them hosting such a grand array of talents, not once but three times in eight days.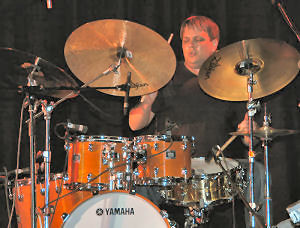 Keith Carlock
After a very lengthy break, Keith Carlock entered the stage, and without doubt produced the best sound of the show. The 15-minute solo, which opened his set, had everyone on the edge of their seats, it was just a pity he didn't have more time. "Mississippi" was probably the most unusual play along of the day, and Keith gave it everything, what a performance. After a short Q & A, he had plenty of advice for the younger members of the audience, and us older ones too. He didn't seem to mind being squashed into the rather small stage left area, and the audio/visual technology helped the audience appreciate some of his subtler touches. Keith has a very unusual setup, with drums angled away from him. It would take too long to explain this properly, see if you can catch him play to fully appreciate it. A fantastic set from one of America's finest drummers.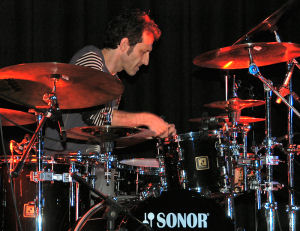 JoJo Mayer
Jo Jo Mayer was promoting his new DVD, "Secret Weapons for the Modern Drummer", and after a few technical difficulties, blasted through a set of jungle influenced drum and bass. Jo Jo had similar problems at drummerlive 2005, but once he gets going he is unstoppable. He always amazes me at how busy his playing is, but always under total control. I was particularly taken with the second track, where his brush playing along to a Nerve track was outstanding. His break beat orientated grooves were really infectious, and every time I see him he seems to get better, with fantastic creativity. I would definitely like to see a full two-hour clinic set, and hope that he crosses the water again soon. Here I felt he could have benefited with another twenty minutes, but the show was running well behind schedule by this point.
Overall it was a fantastic event, with the quality of drummer on display probably the strongest for a British drum festival this year. My initial fears over the sound were erased after the first 5 minutes of Karl Brazil's set, well done Arthur, Tony, Dave and crew. I may be biased but I enjoyed Karl Brazil the most, followed closely by Keith Carlock. I only wished I could have stayed to see Omar Hakim, but due to the over running of the event, my transport back to Edinburgh did not allow this. Well done to the PMT guys, we'll see you at Drummerlive!
Russell Gair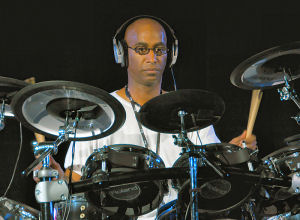 Omar Hakim
Topping the bill at Drumfest 2007 was the vastly experienced Omar Hakim. With a CV that boasts Weather Report, Chic, David Bowie, Madonna and Sting you expect quality, and Omar didn't disappoint. Playing the Roland TD20 kit, he set about showing off the groove and feel that make him one of the most sought after funk drummers around, incorporating pieces from his 'Groovesmith' album and his forthcoming CD. A brief interlude followed with an opportunity for a quick Q&A, covering everything from his influences and the importance of music as an expressive art form to the way he approaches working with some of the biggest names in the music world. To round of both his set and the first date of the Drumfest 'tour' he played along with a medley of funk, soul and motown classics which set even the most weary feet tapping. If there was any (minor) criticism of Omar's set it would that whilst championing the V-Drums as a great tool for drummers to 'expand their vocabulary', he stuck to several 'acoustic' kit sounds and didn't show the full potential of the current stock of electronic drums. That said, we were there to witness the 'Groovesmith' do his thing, and he did it, and then some.
Carl Bayliss
Photos: Dave Hughes

Good round up of a fascinating day. The only downside for me was the constant tapping of people trying out the electric kits either side of the main stage, which somewhat detracted from the clinics.


Diesel74, 4 September 2007
Please log in below if you wish to add your comments on this item. If you are commenting for the first time, you will need to register for security reasons.