Traps A400 Kit Revisited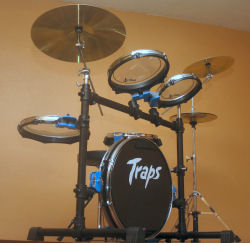 Traps A400
It's not often that I come across a product in the big wide world that I've reviewed in the past and it's rare that I subsequently spend even more time with it and get to know it better. Actually, that's generally only happened on a few occasions when I've bought the product in the first place and then reviewed it afterwards.
Anyway, since I first reviewed the A400 a few years ago, I've not only seen it being used in a live situation, I've also used my local pub's kit many times.
This latest version of the A400 comes with some updated hardware. The drums are still the same as they were – three single headed toms with Remo Pinstripes on them and a double-headed bass drum and snare – and they continue to sound good too. Ok, so as most people acknowledge, they'll never be your top of the range , but they are very functional and fun to play, something I find I noted on the last review as well.
Although the toms don''t have a conventional shell, they do still have a depth in tone due to the Pinstripe heads, however, they just don't have the same normal depth and presence associated with a shell.
The snare drum comes with a coated head on top and really only does two things sound/pitch wise - high and higher - but that's normal for a drum this size. Notwithstanding this, it's loud, especially when playing with a rimshot and cuts through with no problem at all whilst still retaining a level of sensitivity. The bass drum, I've found, works well with a small towel (or the like) placed between the two heads for a bit of extra dampening. When the heads are tuned fairly loosely, it doesn't feel all that different from a regular kick drum. You can also easily fit a double pedal into the setup.
So, we've established that there's not much difference in the fundamentals of the drums in this updated kit. The revision comes mainly in the hardware that comes with the kit.
Before I start on the main amendments I noted, it was also clear that one minor upgrade to the snare drum was a change of the existing plastic thumbscrew on the butt-plate to a more sturdy (and comfortable) metal one. A small thing, but it's all in the details.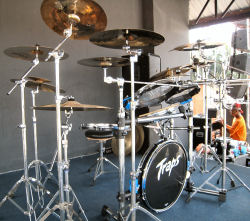 It doesn't just have to be a small kit...
Cymbal stands/arms.
These are mounted into the two upright rack bars that support everything. The arms are fairly long and have quite a good reach, but at the same time you have the option for them to also disappear into the main body of the stand should they need to. In a practical situation, this is really helpful as sometimes 'disappearing' the arm into the stand is the only way to get the positioning of the cymbal just right. The cymbal tilters seemed sturdy enough to comfortably support a fairly large cymbal.
Hihat stand.
This is a double-braced model, but at the same time it isn't particularly chunky. It is fairly lightweight and uncomplicated in design, although it's not overly spindly and can be adjusted to a reasonable height. The pedal is a direct pull affair (which means it essentially connects directly to the rod inside, unlike some more expensive models that have various 'smoothing' methods before connecting to the centre rod) and the clutch has the newer rubber 'felts' instead of the traditional felts.
Overall, the stand is quite functional, however, the one thing I noted I that there isn't any means to adjust the spring tension which may be a problem if you happen to like a heavier action. Of course, if you don't like the one you get with the kit, and you already have another stand, that won't be a problem, however, if this is a first kit, you'll never know you might prefer a heavier action, so again there's no problem.
Bass drum pedal.
This seems to be one of the more noticeable changes on the kit.
While the pedal is a fairly basic model – it has a single spring and single chain - that doesn't in any way detach from the fact it is very functional and comfortable to play. It doesn't have a supporting plate underneath common to many pedals these days, but it does have a double-headed beater and a large smooth cam (that's the bit on the spindle where the chain goes over). The footplate itself is big enough to accommodate a large foot.
Other stuff I haven't so far mentioned.
The snare basket, as it isn't a full stand, is still as functional as it was when I first came across the A400. As it is mounted off the rack, the only main adjustable area is on the basket and this is done with a large plastic screw/wheel. You still also get the basic cymbals (13" hihats, 14" crash and 18" ride) and the drumsticks, as well as the very helpful and clear setup instructions (with black & white photos) that I'm sure have also been revised.
The main thing I have noticed with these drums, having spent quite some time playing them and taking them apart, is that they are flexible; that is to say they're flexible in sound and in application.
My appreciation of what these kits can do has grown over time and that was a realisation that I hadn't thought about prior to writing this. The build quality is still there and all the parts I looked at, including the rack itself and the various clamps, were well finished to my eye.
As I said before, I've now heard the A400 in a live application from both sides of the kit, miked and unmiked, and professionally recorded too. In the latter context, if I hadn't been told it was an A400 I was listening to, I'd never had known as it sounded just like a conventional kit.
I have to end up by saying something about the Traps website.
Although it's clearly there as a sales tool, like every other company website, it also has a step-by-step guide on how to put the kit together in a clear and obvious manner and you can play the kit online too. I find that a great point because to me it indicates the company actually cares about its product and after sales service. Again, a nice touch I thought.
In summary, a good product getting better.
David Bateman
September 2007
Please log in below if you wish to add your comments on this item. If you are commenting for the first time, you will need to register for security reasons.