Dixon Artisan Snares Review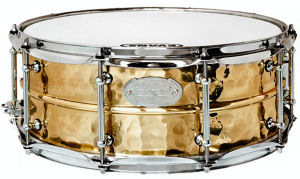 Dixon Artisan Hammered Brass 5" model
Dixon Artisan Snare Drums
Dixon is a name that some of you may be familiar with if you've been around for a while. I've personally have been aquainted with Dixon since just after I started playing and still have some of their hardware and did at one point have one of their early snare drums.
Dixon is part of a bigger family and while, like me, you may have come cross their hardware at some point, they're not really known for their drums. That is, I''m confident, going to change with the launch of these Artisan drums.
I can't remember a time in seven years when I've got a review drum out of a box, played it and thought - hmmmm - then picked up a second one and thought - this isn't bad at all - and then picked up a third and thought - wow, this is really cool - but that's what happened with these drums.
All three drums were sensitive, easy to tune and featured an intelligent move on Dixon's part in that they came with decent Evans batter heads. That's something which doesn't really happen a lot with drums in this price range. The drums also look really good, with cool metal badges and all three looked to be well made from what I could see.
The first one I picked up was a brass drum (model PDS9654BR-H).
It's got a hammered 14x6 ½" shell, with 2.3mm Power Hoops (which are triple flanged) and the same generic snare throw off which seems to be appearing on lots of drums these days. There are ten double-ended tube lugs, which, I'll add, look really good offset against the hammered brass shell. It's neither overly heavy or overly light in weight-wise.
The sound of the drum was something I was undecided about to begin with. I initially thought it seemed a bit quiet, although looking back now, I don't know why. Perhaps it's the less than manly sticks I use.
Anyway, I had the top head tensioned fairly tight with the bottom loosened off a little so as to try and get a full sound while retaining a nice amount of crack/attack. The sound that was generated from this was exactly what I like from a drum: there was plenty of the body I wanted with the crisp attack in there too.
I can't help thinking that if I went back to it having done the review, I may well see this drum differently now I've also experienced the other two drums.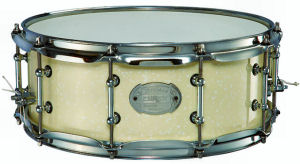 Dixon Artisan Marble 5" version with triple flange hoops
The second drum I tried was the only non-metal drum of the group and its a bit unique. It's called the Ceramic Marble snare (model PDS9654MB) and is big, heavy and made from cast man made marble. Yes, its a stone drum and physically, it's a nice looking drum.
The shell is 14x6 ½" and is framed by die cast hoops and has a Nickel Drumworks strainer. Heads were both Evans, the only drum of the three with named brand heads on both top and bottom. On the batter side was a coated Genera G1 and on the bottom, a 300 Hazy. The wires were what looked to be unbranded Puresounds, but I won't swear to it, and there were ten double-ended tube lugs. Like the brass drum, the lugs looked nice against the finish of the shell.
I took this drum with me to a gig and only tuned it up fresh out of the packaging when I got there. I tuned the top head to a moderate tension without it being overly tight, with the bottom head somewhat more loose, but not slack, much the same as the brass drum. The resulting sound I got was tight, dry and punchy and cut through the rest of the band quite convincingly [judging by the recording I did of the gig from the audience side].
I liked this drum. It looks different and has a great sound to it and while it probably wasn't the most versatile of the bunch, I think it would easily make a nice studio drum. Notwithstanding this, I did manage to play a ska tune on it and it sounded great.

I so wanted my review of this drum to simply read, "plays just like my 402" and leave it like that

The last drum I tried was the one that made the greatest impression on me. With that in mind, I so wanted my review of this drum to simply read, "plays just like my 402" and leave it like that, but I guess you'd then want to know why. Well, if you have a 402, or a 400 to a lesser extent, you'll have an idea of what I mean.
The drum (model PDS9654PST) has a chromed 14x6 ½" steel shell with a centre bead and ten double-ended bridge lugs. The generic strainer is again the basic and more commonly used type - which normally I hate - however, it actually looks completely at home on this drum, and I mean that in a good way. It also works just fine. The hoops are the same as the brass drum and the wires are unbranded but look to be of a reasonable quality.
This drum seemed to just be effortless to set up and play as it took me little time to get a sound and get going with it.
At the medium tension I originally tried - and have to admit, where I also left it - it was loud, bright, vibrant, ringy and was everything I enjoy about a good snare drum. A great drum in my opinion and definitely an all-rounder.
These are all reasonably priced drums as far as I'm aware, so if you're after a new snare and are on a budget you should check them out.
David Bateman
June 2009
Please log in below if you wish to add your comments on this item. If you are commenting for the first time, you will need to register for security reasons.