« Back To Archive Search
Sabian Brilliant Finish Paragon Cymbals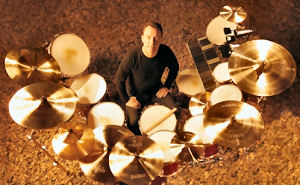 Neil Peart - lover of large cymbal set ups...
Sabian Paragon Cymbals - Neil Peart Signature Complete Set Up
Did you know that Canadian band Rush are rated third in the world for the most consecutive gold or platinum studio albums by a rock band behind only The Beatles and The Rolling Stones? (Thanks Wikipedia).
The Canadian three piece prog rock band are one of the biggest in the world and drummer Neil Peart is often cited as one of the most influential rock drummers since the mid 1970s by many of today's top drummers. With his large drum kits, use of percussion, electronics, stage lighting, inventive musicality and blistering speed and control it is no wonder that he has his name attached to one of Sabian's top end cymbal ranges, the Paragon series.
Peart first developed these with Sabian in the late 1990s / early 2000s and then released them for sale to the world's drummers. These were originally a natural (matt) finished cymbal set so now they have been updated offering a brilliant (shiny) finish. collaboration with legendary Rush drummer Neil Peart, Paragon is a range of cymbals that - although designed for Peart''s hard hitting, high powered style - deliver full, musical responses across a wide volume spectrum."
Although these cymbals can be individually purchased I was lucky enough to be handed (or lugged) a complete, brand new set of Paragons complete with flight case for review. And it is going to take quite some reviewing as this set includes no less than 11 cymbals (plus an extra Paragon china type reviewed here) with a price tag to match as follows:
Sabian Paragon full Box Set models include:
Paragon 16" Crash x 2 (yes, two!)
Paragon 18" Crash
Paragon 20" Crash
Paragon 13" Hi hats
Paragon 14" Hi hats
Paragon 22" Ride
Paragon 8" Splash
Paragon 10" Splash
Paragon 19" Chinese
Paragon 20" Chinese
Flight case
Paragon 20" Diamondback Chinese – not included in box set but reviewed here also.
This complete set of cymbals in their included flight case weigh in at 32kg, or around 5 stone! A hefty set indeed and I was struggling to find enough stands to mount all these at once. Therefore I broke them down into two sets and after a bit of mixing and matching at a couple of gigs and practice sessions I got a good feel for what the Paragons have to offer. I had actually tried the original natural finish set when these were first launched so, keeping this in mind, I hereby offer my thoughts.
On opening the heavy duty case these new Brilliant finish Paragons greet you with an immaculate, shiny surface with the golden B20 bronze looking as good as any cymbal I have seen. All models show the Sabian and Paragon logos in a subtle and classy earthy golden colour. The various models have their own patterns of hammering and lathing which I will expand on with each cymbal later on, but generally these all seem about medium to heavy weight and well proportioned as a cymbal range and very professional looking. Here is the details of each model (are you sitting comfortably?).
Paragon 16" Crash x 2
The complete Paragon cymbal includes two (again, yes, two!) 16" crashes which look and sound about as identical as two cymbals ever could. This straight away is a testament to the Sabian production and finishing techniques and again seems to justify the price tag. There is a large bell with small hammer points that look hand hammered and the bow surface is covered in tightly spaced but subtle lathing grooves. Sound-wise these are quite loud and bright with a quick attack and brilliance of sound over a darker tonal quality that suggests a more complex cymbal. There is lower pitched tone obvious when the cymbal is played alone but disappears in context with other cymbals and drums. There seems to be control inherent in the volume and tone, likely due top the bell hammering which stops it being too brash and I could not hear a single displeasing tone at any point from initial stick hit to the end of the decay.
Paragon 18" Crash
Like the smaller 16" crashes the 18" is loud and bright only more so. Again there is a big, hammered bell and bow lathing like on the 16" crash. The bigger body punches out a blast of attack but maintains a wash and shimmering tone more apparent than the 16" versions. The pitch is lower as expected which also lasts longer but there is a nice correlation of tonal characteristic that is in keeping with the 16" crashes allowing this cymbal to sit very well with its smaller brothers.
Paragon 20" Crash
This monster crash is certainly very rock and you need to make sure the earplugs are on hand when this cymbal gets going. While the same features of large hammered bell and bow lathing are present this crash offers a slightly different character of sound to the 16" and 18" versions. Despite the large diameter this still reacts rapidly and explodes with colour and volume. The main difference in tone is a more up front, obvious and lower pitched undertone which leads to a darker, harder sound colour and gives plenty of oomph. Otherwise this is still in keeping with the smaller crashes and is still able to sound musical and slightly dark. It is certainly not as gong-like as some other 20" crashes and again the control due to hammering and lathing seems to allow this large cymbal to still be controlled, musical and versatile.
Paragon 13" Hi hats
Similar in appearance to the crashes these have small/medium hammered bells but also some long, radiating hammering across the main surface over thin, light lathing. These are quite funky and bright with a clean, crisp chick with the foot and a high, metallic wash when played half open. The metallic tone is not at all unpleasant and there is a dark warmth under the brightness that lets you know these are a quality alloy with some top level machining and workmanship. They are actually quite versatile and still loud enough for most uses compared to some 13 inchers. I love smaller hats anyway and, while quite heavy for their size, these offer a good mixture of sound level and tone for pop, rock, funk and metal.
Paragon 14" Hi hats
This hat pair offers the same design features as the 13" model regarding hammering, lathing and proportions. The larger size gives a meatier, fuller sound but still offers a decent click and chick to cut through while the semi-open wash with sticks is full, bright and loud. These, like the 13" hats have a darkness to the tone that is again warm, but fuller as expected from the larger size. They seem very versatile as they offer clarity, warmth and controllable volume in a very elegant mix depending how you play them. I can think of no music style that these would not excel at and these really are a pair of hi hats that the player can get pretty much what they want from them.

Paragon 22" Ride
This large, 'extra-heavy' ride with strongly lathed and hand hammered bell and lathed groves on the main bow body seems a little overwhelming at first. Admittedly I am used to a medium or thin 20" ride size so this is probably my issue and not a problem with the cymbal itself! So, adjusting my comfort zone (and the cymbal stand position) this ride is actually really quite nice. It is heavy, loud and bright with a clear, cutting ping with stick patterns. Again, I am used to being able to crash a smaller ride cymbal and this model is not really best suited to this due to its weight and hence slow reaction for crashing. So, staying with ride patterns on the bow and bell this is just the ticket for clear, rocking ride work. There is plenty of volume with pleasant if long undertone, also offering a little warmth under the main ping. The bell I especially liked and will cut through any guitar work.
Paragon 8" Splash
This smallest member of the Paragon family is a good, general purpose accent cymbal. With tight lathing and some bell hammering like the crashes it is actually quite thin and less like a heavier 'rock' style splash. It sounds bright and, well, splashy as expected but there is a clanky, metallic undertone which is quite obvious and not the nicest t I have heard. In context this clang is less noticeable and the main high pitched attack is quite pleasant and will cut through for short, sharp bursts of accent. As with many pro quality, hand made splashes, I suspect if you were able to try a few of these 8" Paragons there may be some variety of tone and pitch and you may find one to suit your tastes.
Paragon 10" Splash
I prefer this larger splash to the 8" version. Lathed and hammered like the smaller splash this has more depth and body to the tone, while the undertone on this particular specimen sounded much more in keeping with its high 'splashiness' to my ears. The pitch is lower but still offers a bright, quick and cutting accent and the undertone is of a distinct pitched, but pleasant lower note that again is mostly lost when played in context with other cymbals and drums.
Paragon 19" Chinese
This cymbal has a wide, low flange and very small bell and is quite shallow in profile. Interestingly the hammering is tiny on the bow and yet large and obvious on the wide flange surface suggesting this is aimed at specific control of the china type sound produced by the flange. Played as a modern china (bell and flange pointing downwards) this cymbal is excellent. This has just the right balance of attack, wash, colour, tone & undertones, pitch, warmth, control and that hint of the oriental cymbal sound. While it is quite thin it has the body of sound to cut through with the volume needed and yet still sounds great at lower levels. The attack and almost electric wash is very effective and offers a quite different timbre to the Paragon crashes yet still blends well for accenting and effect, even crashing and riding. The only other chinas I have heard that come close to this sort of sound quality are hand made from the vaults of Turkish cymbal smiths – and you have to pick carefully to get the best ones. Yet here is Sabian offering these as standard! Fantastic workmanship. What more could you want in a china? – I love it!
Paragon 20" Chinese
A big, classic looking china type cymbal, again with a tiny bell but a much narrower upturned flange edge. In contrast to the 19" china this seems thicker and has no obvious hammering but instead has clear, closely spaced lathing grooves from centre to the outer edge. It is lower pitched than the 19" Paragon china and offers that classic yet modern Chinese cymbal sound found in many larger china types for many years now. Under the bright, lightning-like initial attack there is a big, low tone and trashy wash that is still quick and nimble for the size and, like many of these Paragons, does not suggest one particular musical genre but could be turned to many as required.
Paragon 20" Diamondback Chinese
This cymbal is actually not included as standard with the Sabian Paragon Complete Set Up pack, but I was fortunate to also be handed this for review. And this is the most unusual of the Paragon series as you can see from the picture. This is a china type cymbal but has the addition of four tambourine jingles ('zils') and four sizzle rivets alternating in equal spacing around its surface in the trough of the outer edge flange. The cymbal itself is a fairly standard Chinese cymbal design with a wide, turned up flange and small bell. This model is designed to be played 'right-way-up' in the traditional way with the bell uppermost and the flange turned up, unlike most standard modern Chinas, to allow the rivets and jingles to rattle on the upper cymbal surface. There are concentric circles of quite large hammering on the bow surface, small hammer points on the bell and quite subtle hammering around the flange.
So, unlike the rest of the Paragons, this suggests a more subtle approach to playing and pointing towards a more traditional sound. And this is indeed what you do get. Like the other Paragon chinas this has a beautiful wash and edgy attack but is both controlled and added to by the jingles and rivets. These offer an overall sizzle, as expected, which is quite obvious to the ear and mixed very well with the main cymbal tone to product a quick but nicely sustained white noise of sound. The combination of jingles and rivets means you get an initial burst of raw white noise from the 'zils' and a longer decaying, softer sizzle from the rivets – a nice touch producing a very usable effect. This is quite reminiscent of riveted jazz china cymbals or even rides and is therefore even less suggestive of a rock cymbal but nonetheless very appealing. So, for accents and riding, this works a treat as a welcome change to the other Paragons Chinas and would be well placed even in a small, combo jazz setup. A very different model which offers yet a little more variety to this already versatile 'rock' cymbal range.
Flight Case
The heavy duty case included with this set really is important as most standard cymbals cases would not be up to the job. Although the total loaded weight is really heavy, this case will be a lifelong companion to these cymbals. All the usual flight case features are present including the black vinyl covered plywood body, riveted metal edging and corner caps, recessed pro grade butterfly catches and lid hinges, rubber covered metal carry handle and foam lined interior. There is also a vertical mounting spindle to hold the cymbals central in the case for rock solid transportation. To finish it off the Paragon and Sabian Logos are printed onto the case body. Worth around £250 by my reckoning this is a great freebie with this cymbal set and, most importantly, you will not need to fear the roadie once you have handed over your precious cargo in this case!
Conclusions
Well, that is a really big cymbal set and, at around £3000 for this package including the pro flight case, clearly not everyone is going to be Rushing (geddit?) to get this set. But as each Sabian Paragon cymbal is available individually and in smaller combination sets (see below), while still at pro end prices, there will be some very tempted drummers out there of all walks of music and I suspect the Chinas, and crashes will be especially popular. As a box set these cymbals do have a common theme of looks, tone and overall style, with all the crashes particularly well matched, and while, on paper, these are rock cymbals, the detailed touches in design and production do offer much more than just another set of big, loud, brash, bronze discs. There is a warmth and depth of tonal colour throughout the range that comes through and offers a rock sound but with maturity and finesse buried just beneath the surface. A bit like you might expect from a drummer who has been at the very top of the game for over 40 years.
Other Sabian Paragon sets available
Sabian Paragon Performance Set RRP: £896.07
14" Hats, 16" Crash, 22" Ride, cymbal bag
Sabian Paragon Effects Pack RRP: £502.70
8" Splash, 10" Splash, 19" Chinese
Sabian Paragon Complete Set Up RRP: £2,896.63
(as per this review minus 20" Diamondback Chinese)
8" & 10" Splash, 2x16" Crash, 18" Crash, 20" Crash,
22" Ride, 19 & 20" Chinese, 13" & 14" Hats, Flight case
Sabian Paragon Splash N Stacker Set RRP: £164.50
10" Splash w/Multi-angle Tilt Stacker

See also the Sabian website at http://www.sabian.com/EN/products/paragon.cfm

Chris Dennis
(Thanks to Andy at Westside Distribution for sorting the photos when he should have been having a weekend to himself)
Please log in below if you wish to add your comments on this item. If you are commenting for the first time, you will need to register for security reasons.