« Back To Search Results
Vintage View - ASBA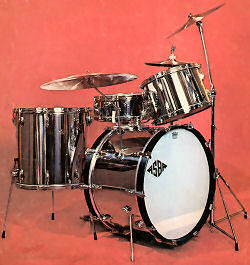 What ASBA is best remembered for - stainless steel drums
Vintage Views - ASBA
From 1928 the ASBA drum company was based in Brevannes just outside of Paris and just about ruled the roost in French-speaking countries around the world. The name was an acronym of ''Alfred et Simone Boudard Accessoires''.
Initially the shells of their drums were solidly made from an exotic African wood called Oukoumé although in the fullness of time they used other equally exotic woods like Teak, Pallisander, Ash and even Portuguese cork. Eventually they graduated to 'la fibre de verre' (fibreglass), transparent Altuglas, fibercell (possibly a phenolic resin?) and stainless steel.
Several excellent products emanated from ASBA including the 'Caroline' pedal and 'Veronique' hi-hat as well as coopered mahogany and ash congas, internally tunable metal bongos (very much along the lines of Roto-toms), and a practise pad called ''Papa-Maman'' which could mount on a stand or which strapped to the leg (an idea later borrowed by many other manufacturers).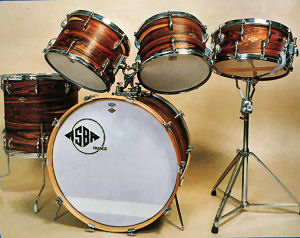 Pallisander or Brazilian Rosewood
On leafing through a 1960 catalogue I discovered a version of a 'ching ring' (hi hat mounted tambourine, designed to add a jingle sound to pedalled hi hats) which surprised me because Ralph Kester didn't file his patent until 1965 and I didn't see one in the UK until around 1966. Did possibly ASBA get there first?
Things progressed well for the next 40 years until Alfred stood down in 1970 whereupon a chap called Jacques Périn took over the ASBA company. Jacques was eventually joined by his son Marc who continued on first to Pearl, then to La Baguetterie drum shop in Paris. I have a suspicion that Phillipe Lalitte, who owns that famous Paris shop in Pigalle, had something to do with ASBA at the very end.
Depending on who you believe on Google the ASBA company ceased trading in 1982 or 1983.
I don't believe I was ever an official endorser, but in 1966 I had an ASBA kit covered in a dark blue marine pearl which came with the gig I was doing. I was playing in France for a year or so with un chanteur name of Richard Anthony. The kit was a typical four-piece set of the time with a disappearing cymbal arm which I'm pretty sure rejoiced in the name of 'Starlet'. With very few reservations it was a solid little kit (much like its contemporaries around Europe) which stood up rather well to the 'frog rock' I was playing with Messieur Anthony.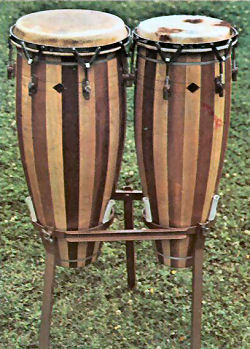 Classic ASBA congas
I'd seen ASBA before in the very early sixties because Besson, a shop in London's Shaftesbury Avenue sold those ''Dermaplastic''-headed coopered bongos and congas along with a foot-operated Mambo cowbell. A decade later when I was writing for International Musician, I went to visit their factory which was near to Orly airport at Brevannes, a suburb of Paris. Perceived internet wisdom has it that there were twenty guys working at the factory, but when I visited it was a dusty old place with just a handful of guys producing drums by hand including an English ex-customs officer who had married into the famille Boudard.
Once they changed their diameters from metric to Imperial in 1963 (and stamped "Dimensions Internationales" inside) ASBA don't appear to have gone in for anything other than bread and butter 'world' sizes from 10" up to 24". I've scoured the internet but their snares have only been available with 5 and 6.5" deep shells even though I would have expected to find a 13" or at least a shallow-shelled 'pipperette' type drum for typical French music. However, they did make ''Referendum'' concert snares with extra deep shells but that was it.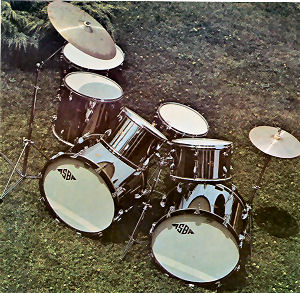 Referendum
As far as I can ascertain ASBA's evocative, raised diamond-shaped 3D badge has been around for ever but if anybody knows any better I'd be interested to know.
Unsubstantiated rumour has it ASBA were the first to produce metal-shelled toms and basses and uniquely, while they were producing 'regular' stainless steel drums (if that's not a contradiction in terms) they were also making open-ended versions. These drums had the usual diameters but with extra-extra long shells, all the same depth. I went to the factory to see them making these metal drums (which were also available in copper) and a sheet of steel was passed through several rollers which formed their diameter and pressed in a strengthening bead at either end. The raw inner edges of the shells were then soldered together. Unlike Ludwig's they weren't bent over and flanged at their open ends, instead a U-shaped piece of polythene was simply put over the raw circumference to create a bearing edge. Perhaps more importantly it was there to stop the metal from cutting through the head. Uniquely ASBA were able to colour their stainless shells. They certainly had some highly original outfits.
Their ''Coupé' (meaning cut) set was around in the seventies and featured open-ended drums where the shells were sawn through, at a 45 degree angle to the head, in an attempt to funnel the sound forward (a concept marching drums have also used). To be honest it was difficult to know whether it worked but it certainly looked radical, maybe even Gothic. To my mind the church-furniture-like finish it was available in did it no favours and it would have looked much better in a sparkly finish. I'm not sure if this is 'false memory syndrome' but I'm sure I recall the Coupé bass drum sitting on an attached plank of matching wood to stabilise it.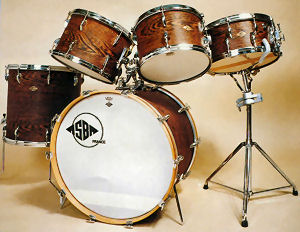 Teak
An earlier interesting set from ASBA in the late fifties was 'Le Bebop' - AKA Russian Dolls. If my memory serves me well it was from an idea by their main endorser, Daniel Humair (who eventually endorsed Hayman as Danny Humair) and featured a split bass and floor tom to create a more portable set (albeit a much heavier one). Long after the event I had a conversation with him in Paris where he told me that sonically he didn't think cutting shells in half and joining them back together again with clips worked very well.
Daniel also had a hand in popularising the 18" bass drum which perversely he maintained only worked if the beater struck the head way above the centre spot. He also had a hand in ASBA's foot-pedal-operated floor tom which was nowhere near as sophisticated as others but, in a typical Citroen 2CV way, it worked. A pedal was attached by a webbing strap to a rubber ended sprung plunger inside the drum which pressed up against the batter head and thereby raised the pitch. It worked unless you inadvertently bashed the plunger in its maximum 'up' position.

Many of ASBA's mechanical concepts were typically Gallic in flavour like the strip dampers acting on the bass and floor tom's batter heads. They worked on a cam and were tensioned by elastic bands. Their disappearing spurs were wonderfully discrete with the holder attachment inside the drum and only a hole in the shell with a holding knob alongside it to be seen. (These were also used as receivers for the disappearing cymbal arm.)
The bass mounted tom holders had sliding rails fixed to them which allowed slightly better adjustment and three splined cast ratchet sections offered a surprising amount of horizontal and vertical positioning. Initially when the vogue moved to twin mounted tom set-ups they fitted two of these rails to the bass drum until ASBA invented a twin-holed receiver block for the bass which still used the ratchet system they'd always had to afford better position adjustment.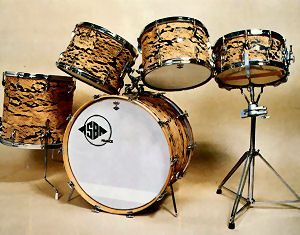 Blue Inlaid Cork
The floor tom legs not only offered height adjustment they could also be splayed out to offer more stability. The air holes had rubber inside and acted as holders for the slotted drumkey. Although a lot of the parts were cast, much of the company's fixtures like snare throw-offs and even parts of the hi hat clutches were machined from solid.
The 'bullet' nutboxes were cast and staggered on the deeper snare drums while double-enders were used on the shallower models. Like all non-American drums of the era ASBA had slot-headed tension screws, T-handles for the bass drum and cast counterhoops. Interestingly the basket arms on their snare stand tightened unusually around the drum by twisting the whole top section until it pushed the arms inwards to hold fast to the snare-side counterhoop.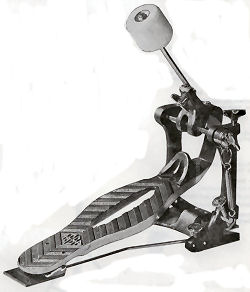 The ASBA Caroline
The company's first footpedals had two piece footplates and were called 'Tempo Swing' but were eventually replaced by ''la piece de resistance'': the Caroline. I was led to believe that the name came from one of Alfred's daughters but digging around on some French websites I've discovered Caroline was actually named after Daniel Humair's daughter. I crave your indulgence if you've heard this story before (like a great deal of stuff I've written over the years it pops-up on the net if you enter the right words in a search engine). On the first Argent US tour in 1970 I was excited to visit Ludwig in Chicago and on being shown into old Bill's office spotted a 'Caroline' on his desk. WFL said it was there because he was studying it with a view to improvement. Interesting this since Ludwig already made the world's most revered footpedal. Regardless, not too long after Ludwig wholesaled the pedal in America.
The French pedal had frictionless roller bearings, a one-piece footplate with an adjustable toe stop, a rod stretcher, single expansion spring and a clever mechanism to clamp it to the hoop with not one, but two T-screws which extended to a convenient position just above the pedal's axle. It had a pair of sharp sprung spurs set into the framework to arrest forward movement and if they weren't enough there was a piece of webbing matching the pedal strap attached to the heel portion with a couple of holes in it to take the French equivalent of six inch nails. I never put this feature to the test, feeling the Casinos of Europe I was playing in night after night might not have been too impressed by me bashing nails into their parquet floors.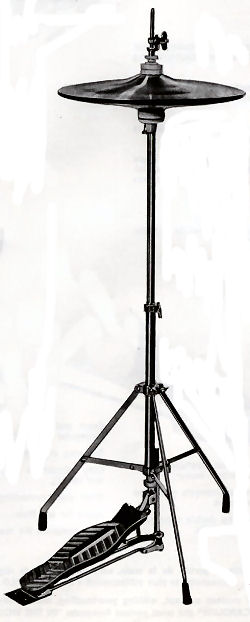 ASBA Veronique
The Veronique hi hat pedal (known as Charleston to the French) was meant to match the Caroline but even though it had tripod legs, a centre-pull action and various sleeves inside to help smooth its action, was nothing like as sophisticated. It had the same one-piece footplate with the piece of industrial webbing hanging off the back to allow you to nail it into the parquet tiles, as well as spurs tapped into the frame.
In those halcyon days before the words 'generic' or 'OEM' had been invented ASBA produced 'Y shaped' double cymbal stands on their substantial wide-spreading tripod bases which must have looked good on paper but in practise I suspect had a propensity to topple over with heavy cymbals mounted. Their boom stand must have looked OK on the drawing board too but, with its telescopic boom must have also been unstable.
It hasn't been easy to find out about the company's endorsers: John Coughlin certainly had a stainless set when he was with 'The Quo' as did Richie Cole (with Stray) although I'm not sure either was an endorser. But quite a few highly respected French guys: Christian Garros and Daniel Humair certainly were.

Even though they were made in Europe ASBA drums were never particularly cheap in the UK: the Altuglas set I had my Drumstore in the seventies would have set you back £600, quite a substantial amount.
RJ Henrit 2011

Please log in below if you wish to add your comments on this item. If you are commenting for the first time, you will need to register for security reasons.