Interview with Jonathan ''Ginger'' Hamilton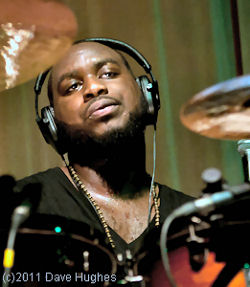 Jonathan 'Ginger' Hamilton
Interview with Jonathan 'Ginger' Hamilton
Jonathan 'Ginger' Hamilton opened Sunday's Live Stage at the London Drum Show this year with a set full of groove. The audience had the pleasure of hearing Ginger play some Jessie J tunes (who he is currently on tour with) as well as a few tracks with his brother Michael accompanying on bass to show the importance of their close relationship on stage. He gave sound advice to the audience on playing for the song and working in the current music industry - 'Work on finding your own voice and that's what you'll get recognised for'.
Ginger has an impressive CV for a drummer his age, having played for Pixie Lott, N Dubz, Peter Andre and Kelly Rowland, to name a few. I caught up with him the day before his London Drum Show performance to find out more about life as a drummer at the forefront of the UK's gospel and R n B scene.
---
You started playing for Kelly Rowland at just 18 years old. Tell us more about that…
I got called for some TV shows with Kelly when I was 18. I was still in college at the time so it was pretty cool. When I got back to college I was a bit popular!
Where were you at college?
In South London. It was a normal college; Christ the King's Sixth Form.
How did that gig happen?
It was through a friend of my brother. He owns an agency and asked me to do it.
At the moment you're playing for Jessie J – you must be very busy!
That's correct; we're about to hit the road. We've got production rehearsals tomorrow so I've got to leave the London Drum Show straight away. It's exciting times; we're touring around the UK, doing the EMA's in November and then a few shows around Europe as well.
Have you been with her right from the start?
I started at the beginning of this year when 'Do It Like A Dude' was coming out, which was a great time to jump on.
What would you say has been your 'big break'?
After Kelly Rowland I didn't really do anything for the rest of the summer. It was when I got into VV Brown's band, which was my first on-going gig with my brother; he put me on that. That was my big break because I was seen by the person who was with Pixie Lott at the time. Then I did a couple of sessions for Pixie, which led to me doing Peter Andre, which led to me doing other stuff.
What were the gigs and venues like with Peter Andre?
We did a UK theatre tour, which was 38 dates around the UK. I never knew you could do 38 dates around the UK! That was my first proper big tour. Then we did an arena tour at the end of last year.
What touring advice would you give to people for looking after yourself?
With touring you spend about ten percent of the time on stage. Whether it's off stage or on stage, your energy is important; it's about not being too miserable, being on time to calls, smelling good, looking good! It's all part of being a successful working musician these days. Obviously you have to be able to play and know how to play to tracks and learn parts. But off stage is as important as on stage.
What do you work on in your own time?
I watch Youtube videos of my favourite drummers like Aaron Spears, Gareth Brown, Karl Brazil, Ronald Bruner, Dexter Hercules and Nathaniel Fuller, who plays for Wretch 32. Dexter plays for Pixie now and he was doing Eliza Dolittle. Different drummers like that…Nick Smith in the States. I check out what they're doing, their ideas, and trying to incorporate that so I can put my take on it. I practice with a click, which is very important. I practice different styles of music as well.
Describe a typical week for you
It depends… it can vary from week to week. When you're preparing for a tour it'll be a week of rehearsal. This week just gone has been a week of 12 hour days in rehearsals, so it was very, very tiring. I was having to prepare for the drum show as well, which was a bit of a brain teaser. Sometimes a week will be more chilled and I'll practice and socialise, play pool with my friends and stuff like that.
How have you prepared for the London Drum Show?
I haven't over prepared. When I over prepare things they always go wrong but I have planned stuff so I have an idea of what I'm going to talk about. I'm going to draw from my experiences; I'm not going to try things I'm not comfortable with. I'm not an amazingly technical drummer like Thomas Lang. I'm just going to show them what I do and why I'm working and what you can do to be working.
Who have been your favourite musicians to work with so far?
Jessie is one of my favourites. Some of the stuff she's pulling off on stage is mind blowing and it's a pleasure to have her in my in ears. It's different for different things… It was amazing working with Peter Andre because he puts so much of himself into a show that he's really a part of everything he does. I also worked with Devlin for a bit, a grime artist. His lyrical content and flow and the way we were feeding off of each other on stage was great. N Dubz knew how to put on a great show as well so it was great to be out on tour with them.
I think I have favourites for different things but favourite musicians to work with are my brother; Michael,'Smoove Groove' Hamilton he calls himself. It's a pleasure to work with him and it's a pleasure that most of the gigs I've done have been with my brother. Gavin Powell is an amazing keyboardist, Sean Barry too, Lewis Allen, a guitarist, the list goes on. Kojo Samuel, Phil Simmonds, Hannah Vasanth, Octave, Ben Jones; lot of people that I love working with. Whatever they bring to the gig at the time or whatever the artist brings to the gig that I can feed off is my favourite part about it.
It sounds like you come from a very musical family
Yeah my dad plays guitar and sings and he's got an album out.
Are you playing on it?
I'm not actually! Dad! My sister sings as well; we all sing at church so we've grown up around it and music has always been in my family.
What gear do you use?
Mapex drums, Paiste cymbals, Vic Firth sticks, Protection Racket cases and Remo Heads who I've just signed to so I'm very excited about that.
What have you learnt that you wish you had known before?
What I know now is that your playing is only a part of what you can bring to the table. There are a lot of great drummers out there but it's not just about that; it's being able to be a musician, a team player and your interaction off stage and being a cool person to be around. Thankfully I learnt that quite early but you've got to work on your people skills.
Anything you'd like to add?
I'm grateful to God for giving me the talent and that I'm in a position where I can impact on people with my playing. It's an honour and a privilege and I hope I'm doing it justice.
Interview by Gemma Hill
Photos - Dave ''The Drummer'' Hughes
Please log in below if you wish to add your comments on this item. If you are commenting for the first time, you will need to register for security reasons.