« Back To Archive Search
West End Drummers - Andy Newmark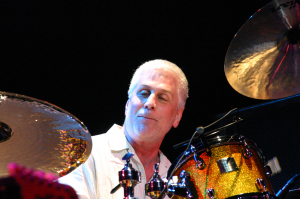 Andy Newmark

West End Drummers - Part 5 - Andy Newmark

Andy Newmark's discography reads like a who's who of musical greats – Sly and the Family Stone, George Harrison, Carly Simon, John Lennon, Eric Clapton, David Bowie, Carole King, Sting… and this only hints at the work he has done as a musician since his early twenties. In 1999, aged 49 and after several decades as a renowned session drummer, Andy decided to change paths within his drumming career and audition for the Lion King, which was opening in London's West End.

In this month's West End Drummers one of the greats talks about his personal experiences of changing from a session to show drummer, what John Lennon was like to work with and how 30 seconds of playing changed his life as a 21 year old. How did you get involved in the West End? I knew people in New York City in the Lion King and I heard that the show was coming to London. I spoke to one of the guys in the orchestra in the New York show and asked if I could get an audition with Joe Church, the MD who was coming over to conduct auditions in London. They said I could come along and I showed up but I wasn't chosen for the job initially. They chose Ralph Salmins and that was that; I hoped maybe I could be a dep for Ralph. A few months later the Lion King production office called me and said it wasn't going to work out with Ralph as he had another show and decided that he didn't want to leave it. Would I like the job? So I said yes and that's how I got it. Why did you make the decision to take a break from what you'd been doing and move to London? Well I'd been living in London for ten years before that. England had been my home since 1990 and this happened in 1999. I didn't move here for the show but I didn't stop what I had been doing… it stopped. I wasn't making a living as a freelance drummer any more and doing the stuff I had been doing all my life. I thought the only way to remain a working musician and make money from it would be to get a show in the West End. Up until then I never would have considered it because I had worked on a show on Broadway when I was much younger, back in 1969 or 1970. I depped on a few shows in New York like Grease and Jesus Christ Superstar and I thought, 'This is really depressing! I never want to be a part of this scene'. I went on to do the rock and roll thing, which was exactly what I wanted to do with the rest of my life. It was a long time before the idea of a show was acceptable in my mind but in 1999 I was 49 years old and there weren't really other options on the table for me to make money. I guess there are always options in life to start a whole new career but I thought I wouldn't have to go out on the road; I'd be home. I lived out in West Sussex so it was a two hour commute every day to the theatre in London but at least I was sleeping in my own bed every night. There wasn't really an option because my phone wasn't ringing. I had withdrawn from the scene and had become quite picky about what I would do and eventually I was no longer making a living as a freelance session drummer.
Is it correct that Tommy Igoe wrote the pad for the show? He wrote the drum parts although Lion King was in kind of a workshop in Minneapolis the year before it opened on Broadway. Originally there were percussionists but no one on a drum set. Joe Church, the MD, brought Tommy Igoe out and said, 'Come up with some drum parts to give things a bit more weight'. So he became part of the show and when it opened on Broadway, Tommy was there on drum set in the 17 piece orchestra. They're all his parts and he did notate them eventually so other drummers coming in to dep on the show had parts to practice at home. How did you find the reading side of things after what you had been doing? It was more demanding. I knew how to read drum music from my first drum lessons when I was 11 but I had no experience reading drum charts. In the recording studio with pop artists we just made it up as we went along and wrote out little parts. That scene was not demanding in a reading kind of way so I bit off more than I could chew with Lion King. I was out of my depth as far as the reading, I had never worked with a conductor and there were lots of other little instruments that you have to play as the drummer besides the drum set. You're constantly on the move from the drums to a concert bass drum to a conga, shakers, triangle, cowbell… it was a lot and I had never done anything like that in my life. It wasn't complicated but you had to read it; there was no way to get around doing that show without being able to read, which meant going home and doing a lot of homework and that is what anyone working on Broadway or the West End has to do. I had the chance to live with all the drum music and the recording of the show, but as much as I rehearsed at home it didn't prepare me for the shock and onslaught of doing it in person with the band, following the conductor. I found it very overwhelming. How long did it take you to settle in to the show? A year. I was getting through the show but the conductor wasn't happy with a lot of what I was doing for many, many months and felt I wasn't really following his tempos properly. Whatever it was that the conductor wanted from me, he wasn't getting it. It took me a year before I could go in and just do it and have fun where I wasn't reading the music anymore. Eventually you memorise the whole thing. The first three or four months I was thinking, 'They're going to fire me and understandably so. I'm the weak link in this orchestra and I'm not used to doing the conductor thing'. I was fully accepting that they were going to let me go; I was at peace with that and doing the best I could but not feeling like I really owned it. But Colin Welford, the conductor, he didn't fire me and for whatever reason he hung in there with me. I was doing my best to get this thing under my belt, which he knew and eventually I did. My attitude is probably what saved me. I wasn't at all defensive, confrontational or in any way ego bound by all the constant criticism and notes every night. 'Andy, I need to talk to you… this is wrong, this is wrong…' and that went on for months. I treated it like I was going to school and I put everything I had done in the past completely away. The rock''n''roll world that I had lived in all my life means nothing in the West End. I think the hardest job in the entertainment business is being a West End drummer and even tougher than being the drummer is being a dep on one of those shows. I had two months of rehearsals before the first show. My amazing deps came in; James Powell, Guy Richman and Tim Goodyer. They came in with no rehearsal, as a dep has to do. I had to be there on the first nights that they played and it's amazing what one can do when you put your mind to it; they were playing the show better than I was! They seemed more comfortable in the environment and playing with a conductor. I learned a lot from Tim, Guy and James, just seeing how they got through it. My mouth dropped open that they could come in having never rehearsed or done anything apart from at home and just do the show live. It blew my mind. It took me months to come up to speed and they just walked in!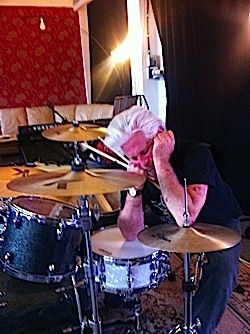 Recording with Bryan Ferry

The conductor was very happy and he was a very talented guy who demanded a lot from players. He loved what they did and they stayed with me for the whole five years I was there. They were my only deps and I gave them tons and tons of work, weeks at a time. The reason I could take off so much time was because they were so good. If you have good deps who show up on time and do the job then the holder of the chair has a lot of freedom to take time off. At Lion King we were not working with a fixer; on all the other shows you have to get permission to take a night off and put a dep in, then the fixer does it all and gets paid for it. At Lion King they adopted the Broadway system and let the band administrate their own chair without a contractor or fixer involved. We found our deps, we trained them, called them and paid them as opposed to the show paying them through the contractor, which took all the middle people out of it. I paid them in advance when online banking started and they'd have the money before they even did the show. I treated them like gold and after a couple of years I couldn't do more than three or four shows a week, I just couldn't stand it. The commuting of two hours each way was killing me so by the third year I was doing a maximum of four shows a week on the two matinee days of Wednesday and Saturday. At the time I was doing it, it was £125 per show so I could do four shows in two days, only go to London twice and I could live on that £500 a week. I was giving out four shows a week but as time went on I was giving them weeks at a time. I just could not bear the sight or smell of that orchestra pit; I found it so soul destroying, which was what I felt when I was 19 years old working in New York. It's not about rock and roll and performing and connecting with people; it's just a job, that's all it is. It's like working at Barclays Bank from nine to five. You check in, you check out, you get your vacation pay. It was an amazing lesson for me, like going back to school and becoming good at something I've never done. I don't regret it at all because I really grew as a musician from playing so much and doing up to seven shows a week, being mentally really on the ball, working with a great conductor. My reading had been taken up a notch. The results for me were great but once I realised that thrill had gone and that I had gotten the benefit from it I couldn't go on with it; I was on autopilot. It's a fun show for drummers to play as it's very challenging but the environment, playing down there in that dusty dark room and climbing all over each other and wearing headphones… it's not for me. Musicals are a breed unto themselves and though it's challenging to get through a musical as a drummer, technically speaking, it gives nothing to your soul… for me anyway. I want to be around artists who are writing great songs, playing and being on stage. I stuck it out to my disbelief for five years, had a great time, made it a really positive experience. I made good friends with everyone in the orchestra. The great thing about going to work was seeing everyone. I loved seeing Steve Price and Dave Adams and all the people, the horn players. It became like a family away from my home that I could go to, not unlike being on tour on the road with 25 people. I had a lot of fun there and I loved that up until I was 54 I was still making a living playing drums. Gosh knows what I would have done otherwise; I''ve never done anything else. It was all very positive but after you do something like that day in and day out for five years, you have to get out, or at least I did. What are you working on at the moment? I do some recording; I''m not super busy. It''s not unlike before Lion King but the drought is not quite as bad. I''ve been on the road all this year with Bryan Ferry. I''m back to doing the kind of thing I''ve been doing all my life; some recordings and eking out a very modest living as a freelance drummer. So far I just seem to be getting by. When I left the show I had no idea what was going to happen, I just knew I had to leave. They asked me to stay on and wouldn''t mind if I just came in to do one show a week, they just wanted me to stay on and administer the drum chair cos I had done a great job over the five years on that. They liked having me around and were happy for me to take the pay cheque every week by running the chair. I said, ''I appreciate that but I have to divorce myself. As long as I have that job to fall back on, it''s like being connected to an umbilical chord; it becomes a safety net''. I knew I''d never get on with anything if I stayed tied into that. I''ve never looked back for a second and it was a wonderful five years but I left before I turned sour. The phone started to ring, work started coming in and I''m getting by and happy with just working a little bit.
What was John Lennon like to work with? He was amazing. When the Beatles came out I was 13 years old and I was playing my drums. The Beatles was a big, big thing in my life so it was a big deal for me to meet John Lennon and work with him. He was really, really nice and I loved every second of it. How did you deal with the pressure of playing with someone who was a big influence on you? I had been doing that since I was 21, working with fairly big name artists. I was in a band back in '72 called Sly and the Family Stone. That was a big, big act and Sly was a musical genius. Also Carly Simon and James Taylor and I had done a lot of work for George Harrison in the mid 70''s and toured with him. When I met John in 1980 I had been working for big name acts for ten years as a freelance drummer so I was never impressed with famous people, I was just impressed with being around great talent. I never got caught up in any ego; it''s always been about the music and the players on the session, my playing and making great records. That''s the challenge in the studio; making great music. It was nice that these people were well known and successful because my name was on the back of their records so everyone in the music business knew who I was at a very young age and my phone was ringing off the hook since I was 21 years old. I''m humble and all I care about is, ''Did I deliver the goods that day in the recording studio or not?''. You''re only as good as your last session. Is it true that you auditioned for Sly when he was lying on a bed, out of it, and you had 30 seconds to play?! It''s true. He asked if I was funky when he woke up out of his stoned stupor on his undulating water bed. He stared across the room and didn''t recognise me. He asked me who I was and I said, ''Andy''. He said, ''What are you doing here?'' and I said, ''I heard you were looking for a drummer and I think I could be the person''. He just smiled and said, ''Are you funky?'' and I said ''Why yes, Sly. I think that I''m very funky'' like a good little middle class white boy would say. He laughed and pointed at the little practice pad drum set and said, ''Go play''. I had about 30 seconds to alter the course of my life and play the funkiest beat of death that I could play, whatever that might have been when I was 21 years old. I just closed my eyes, sat down on these practice pads and went for it. When I opened my eyes he was standing up on the water bed, jumping up and down shouting ''Yeah!''. He enjoyed it so those 30 seconds changed my life. Do you have any advice for young players considering working in the West End? I think the important thing that people understand, which I hope comes across in what I''ve said to you, is that it was a great learning place for me. It was like going to music school, which I never did. It really upped my game, was a very valuable experience and is the most difficult job in the entertainment industry. I don''t want anyone to misconstrue my comments about saying it''s a soulless place in an orchestra pit; I just want to make it clear it''s a great education, it''s not for everyone but it''s a great place to get your sh*t together. I advise players today to get out on the road and save going in to the West End until they''re older. Once you get out there and do other stuff, doing a show doesn''t seem as exciting night after night. West End and Broadway are great when you''re 40 and you''ve had enough of rock and roll; then you can appreciate staying home, having a steady pay cheque and get a mortgage. Interview by Gemma Hill
Please log in below if you wish to add your comments on this item. If you are commenting for the first time, you will need to register for security reasons.