Interview with Brian Bennett, Clem Cattini and Bob Henrit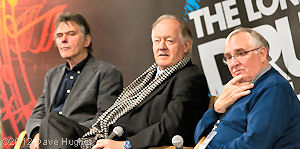 Bob Henrit, Brian Bennett and Clem Cattini. LDS 2012
In Conversation with Brian Bennett, Clem Cattini and Bob Henrit

Whether they like it or not, Clem Cattini, Brian Bennett and Bob Henrit have stamped their mark and legacy on British drumming history.
As session men and band members they have all worked with some of the best artists, musicians, producers and songwriters and, unbeknown to most of us, their work continues to be aired on radio and television.
In brief, Clem Cattini has played on over forty No.1 hits including T Rex's 'Get It On', Tom Jones 'It's Not Unusual', The Kinks 'You Really Got Me', Donovan's 'Hurdy Gurdy Man' and much more. Brian Bennett, as a long standing member of The Shadows, has written music for documentaries, theme tunes and the music to the long standing TV series 'Ruth Rendall Mysteries'' and Bob Henrit continues with one of the forerunners of British progressive rock bands, Argent, and has been a band member for Unit 4+2 and The Kinks and live session member for Don McLean, Adam Faith and many more.
We had the opportunity to catch up with them at the London Drum Show 2012 where they reminisced and shared their journey taking us through the realities of being a professional in an ever changing industry.
---
Gentlemen, let's turn the clock back. How did it all start for you guys?
Clem: For me, I was influenced by my mother who loved a lot of Latin American stuff. Let's face it, it's the basis of rock n roll anyway. It had that straight eight feel. Playing drums was one of those things that you thought was the easiest thing to play until you got into it, rather than a violin because that's hard.
I didn't really start it seriously but once I got into it, I enjoyed it and wanted to just get better at it.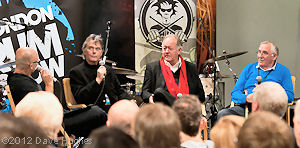 Mike interviews Bob, Brian and Clem
Brian: I started listening to drummers through the radio. When I was a young boy, there was just radio and no television. Glenn Miller was stationed here in England during the war and he did live broadcasts and I remember my mother telling me that I used to bash pots and pans with wire brushes and I think it was the sound of the drums that I liked. Later I got to see drummers in movies like 'The Glenn Miller Story' and 'The Benny Goodman Story' and it was then that I got my first sighting of Gene Krupa. He appeared in the Glenn Miller Story where I recall they went down to a club, 'Birdland' in New York, and from that day I wanted to be Gene Krupa.
Bob: I began as a washboard player and I went round to a pal's house, and he was hiding something behind his back and said ''we're forming a skiffle group and you are the washboard player'' and he handed me his mother's washboard. I've often wondered what would have happened had he said "you're the guitarist" and whether or not my passion for music would have taken me to the next stage on guitar. I was going to say that I really enjoyed playing the washboard, but I''m not sure whether that's true. It's an 'on' or 'off' instrument.

For me, the next step from the washboard was to be a drummer. Brian, Clem and I have discussed this in the past. There we all were with our so-called drumkits and none of us can remember not being able to play. My pal Ginger Baker says exactly the same thing. It is just something that we took to and it is a gift, no doubt about it.
I started listening to the 'Voice of America' and of course 'Radio Luxembourg' where we were hearing rock n roll without knowing much about it but doing our best to emulate it. Music was beginning then, or at least the music that I gravitated to, and as John Lennon famously said, there was no real music until The Shadows.
So we three were really fortunate 'cause we were there at the very beginning of it.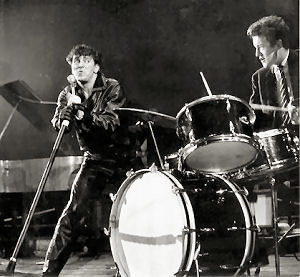 Brian with Gene Vincent
To most parents, that beginning stage is a cacophony of noise. Were your parents supportive or did you have a struggle?
Clem: I had a bit of struggle at first 'cause my dad had a business and wanted me to go into it with him which was a restaurant/cafe. I spent most of the time serving cups of tea and tapping on the till. Then I used to go on my lunch break and take out my practice pad and kept up my practice that way learning the rudiments from the 'Buddy Rich Drum Tutorial'. I didn't even have a teacher - I'm self taught.
Eventually, I started to improve and progress and it was then that I'd won them over 'cause they would see me perform on stage with all those artists.
Brian: Similar thing really. My parents weren't musical at all and I didn't have a drumkit at home 'cause there was no room for it and we lived in a council flat.
I bought a wooden bread board, got a bit of foam rubber and stuck it on and that was my practice pad. We used to make stuff back then, you didn't go to a shop and say give us a practice pad 'cause they didn't have one.
I remember my first kit, I had a white Olympic bass drum, a white snare drum, hi-hat and one cymbal and this was when I had to perform gigs with the school dance band and I had that for the first two years, I was about 14 or 15 at the time.
Rock n roll hadn't really come in yet but I could play 'Rock Around The Clock' and managed to do that shuffle with the stick across the rim of the snare drum and even got that 'ping' on the edge, which a lot of engineers at the time ended up not liking but today they really want it.
I played with just a bass drum and snare for quite a while even in the early part of my professional years before I could afford tom toms.
Bob: My parents were hugely supportive and I had a kit similar in set up to Brian and Clem's: hi-hat, bass drum, snare (both covered in Fablon) and a cymbal; which wasn't a crash or ride, it was just a cymbal. I saved up money from my paper round and went up to town to buy myself a real drum kit and a guy called Ken Spacey sold me a Trixon set and ultimately I acquired Brian's Trixon snare drum.
Brian: Now Trixon drums were the loudest drums around at that time. When we did gigs then there was no PA system; the singer had a microphone, the guitarist had an amplifier and the drummer just had his drums. They wanted it loud and, of course, there were no fold back system or in-ears and they wanted it 'loud'. Drums were usually placed at the back in the majority of cases but Eddie Cochran and Gene Vincent wanted the drums in the front.
How much of a part did 'Big Band' music play in your upbringing?
Brian: For me, a huge part. There were lots of them in America but there were only two bands in England. Ted Heath's band had Ronnie Verrell and prior to that it was Jack Parnell and the other band was John Dankworth and they didn't do dances where they would throw in a few sambas but mainly it was the American bands like Stan Kenton, Count Basie and Duke Ellington amongst many others that I'd listened to.
I remember going to an audition with Basil Kirchin and he said "...play along to this piece of music" and it was 'Diminuendo in Blue' and there was this long saxophone solo with Paul Gonzales on sax and it was 'stonking'! Even listening to it today, it gives me a kick up the backside. That confirmed to me why I wanted to be a drummer. I have to say that music chose me.
Clem: I was seventeen when I started and my history as far as playing and as I mentioned before, I wasn't taught. My music lesson at school was some old biddie coming in, putting on a classical LP and disappearing for a cup of tea.
I was madly into big band before I actually started playing. I used to go to Ronnie Scott's when I had Ronnie Stevenson with me and I used to go down and watch him play but I never thought of playing it 'cause I started playing rock n roll.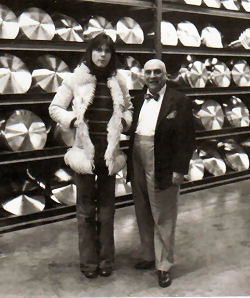 Bob with Avedis Zildjian
Brian: I was lucky at school – it was a matter of luck and who you'd gravitate towards or met.
Someone came into the playground and said 'Kenton'. I went back and looked up 'Kenton' and we went to the record shop and got the 78 of Stan Kenton's 'Peanut Vendor' and that's how I discovered the drummer Shelly Manne. All those guys I'd discovered when I was between 12 to 15, before rock n roll kicked in and they were all big band influences.
Bob: I started using the stuff that I'd heard on jazz records to announce my accents and incorporate it into my playing and most times I just had to straighten the shuffle feel out.
Clem: I remember doing a session with the guy who did 'Sea Cruise' and we put the track down. The pianist came in and played a dotted shuffle feel against it and it worked!
It was such a great feel and it was like that back then.
Bob: Over here we were being exposed to music from the fat end of the trumpet which was the whole of America to the thin end which was Britain. I didn't know about Country & Western or R&B, all I knew was good music. When I first went to America and learnt that Conway Twitty was a Country artist, I was amazed. That led me in a different direction away from jazz and I knew the Little Richard/Jerry Lee Lewis thing was what I really wanted to do.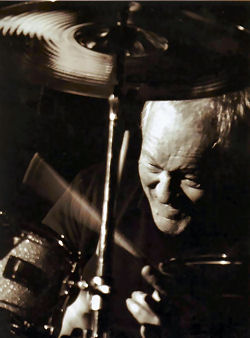 Brian
Clem: I must admit that I was turned off the jazz scene. I remember 'Telstar' by The Tornados was No. 1 and we were invited to a midnight jazz concert as guests of honour. I forget who the drummer was but he was a black guy and it came to his drum solo. Now it was at that period when the jazz attitude was to turn your back to the audience and the attitude would be to play what they wanted to play to the point of ignoring the audience. This guy did a twenty minute drum solo playing the 1st and 3rd beat of each bar and that's all he did throughout his solo and this went on and on and I thought, hang on, I think you're taking the 'piss'. I understand why 'cause he had to impress the few in the front who were going 'wow, yes man' but that really wasn't for me so I got up and walked out, it was pure self indulgence.
Bob: Even more pertinent was that jazz wasn't a music you could make money with. Jazz was falling by the wayside and rock n roll was coming in.
Fortunately, we were able to play this rock n roll stuff and make it our own. Clem, Brian and I have talked about sessions we were involved with where we were absolutely shitting ourselves, often with an orchestra and 'proper' session guys would be reading the 'Sporting Life' right up to the downbeat when they'd look at the music. Meanwhile, we we're desperately trying to work out what the part was and there's nothing worse than that; they didn't give you any help at all. But we were bringing something to the party that older drummers couldn't do.
Clem: Moneywise, I got the same as you guys for sessions. I got £5 and 15 shillings: 5 guineas and 10 shillings porterage.
Brian, you were involved in song writing at some point. How did that evolve and how did it slot into your career?
Brian: I always wanted to write. I used to love going to the cinema and I couldn't work out why certain films turned me on like the black and white film noir 40's American films. It was because the composers heightened my intensity of the joy of watching the film. They treated film writing exactly the same as a composer would treat an opera. You had an audience in and you want to tell the story through music, well they did that with film.
I was on the road with the John Barry Seven and John was doing a postal course from the Julliard School of Music and he said that we're family men and too busy to go to college so I went ahead to start a postal course with the Berkeley School of Music. I started writing songs for The Shadows and was also asked to do some stuff for TV and then I got involved in library music but the thing is that it's all music.
My instrument of choice is drumming and I love playing, performing and interacting with other musicians. I love making the song better for the artist's performance so they'd sound better and also making them approach their instrument in a different way because I was their solid ground.
Now the same goes for songwriting. An example is 'Summer Holiday'. I didn't intentionally write a song called 'Summer Holiday'. What happened was they'd made the film and there was a song short in the film.
Bruce Welch came into the theatre and I was sitting at the piano and he said they were looking for a song and I was doing Berkeley School postal course at that time. And I said "...what is it?" And Bruce said, "...well they're all on a red bus". So I then wrote "we're going where the sun shines brightly", so it was 2, 5,1...Dminor, G, G7, C..."we've seen it in the movies, now let's see if it's true"...and on it went. After that I get back to my postal course – so that's how 'Summer Holiday' was born.
I then got into film writing and I luckily bumped into (as you do on your career journey) a guy called Robin Phillips who ran KPM Library Company. I started off by going to Brussels with a big band and he then asked me to write a couple of scores. I submitted a couple of scores and Johnny Pearson who was one of the conductors put them through. One of them was a score called 'New Horizons' which has been used for Australian Channel Cricket for the last 40 years now.
Once they started realising that they could associate a name to the sort of music they liked, I began to get commissioned work. One of them was writing for the 'Ruth Rendell Mysteries' and that went on for 15 years. I ended up doing that almost 100% of the time and I didn't play a lot for a few years. Then the passion came back and that's how the writing side worked out for me.
Bob: I remember both Brian and I got our Ivor Novello Award at the same time. I got mine for services to music and Brian got his for the 'Ruth Rendell Mysteries'. Brian went up, got presented with his statue and said to the glittering audience: "Not bad for a drummer".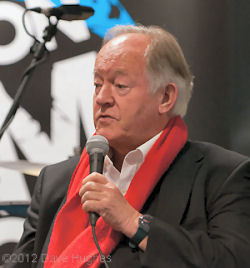 Brian
Clem, you've been renowned for being the drummer on 'Hi Ho Silver Lining', 'Hurdy Gurdy Man' but what has fascinated many people is your involvement with Led Zeppelin. Could you reiterate that?

Clem: I was doing sessions, about three a day at that time, and I had a call from Peter Grant, Led Zeppelin's manager. He rang me up and said "...I've got this project that I want to start and I'd like to take you to lunch to talk about it". It was through Jimmy Page actually who mentioned that I should be the guy to have on drums. The long and short of it was I never went to that lunch. I didn't have a chance, I was so busy with sessions and it took over everything else I had planned. You were lucky to have a sandwich in them days. The next year when it all started happening for Zeppelin, I saw Peter and said "...was it that project?" and he said '...yeah".
Looking back, could I see myself with long hair and sticking stuff up my nose...?
Bob: Oh yes!...[everyone laughs]...the thing is, opportunities always look better looking back at them.
Clem: The other thing was that I was working with John Paul Jones in Lulu's backing band.
Brian: Talking about John Paul Jones, when Jet Harris left the band, we were looking for a bass player and John Paul Jones name came up and he came to meet us at the Palladium. John Rostill came as well. Rostill got the gig but isn't it great that John Paul Jones turned up?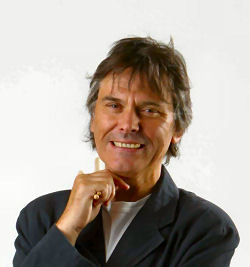 Bob
Clem: I also remember doing a session and Charlie Katz the fixer walked in and Jimmy Page was telling him that he was joining this band and he wouldn't be doing any more sessions. Charlie then turned to him and said, "...you're not going to make much money doing that, you have a great career in front of you as a session man". Now look at him, he's a multi millionaire!
Bob, you were at the beginning of the progressive rock scene with Argent and it was also a time of experimentation as far as that genre went. Take us through that period.
Bob: We wanted to push the envelope as far as we could. With Argent, we went off to Germany to do our nine 45 minute spots a night. I'd done that with Unit 4 +2 ten years earlier but I didn't expect to do it with Argent. Anyway the first song we played was 'Dimples'. At the time we thought people were there to see us and then we spotted all these women lined up on the side of the bar and we realised they were 'selling affection' and the punters weren't there to see us at all [everyone laughs]. So we would start Dimples in 2/4 and then without thinking about it, move it to straight eight's or 5/4, 7/4 and three quarters of an hour later we would stop and that would be the first set done. Nobody seemed to notice but we all had a great time. The idea was to push the envelope as far as we could and hopefully keep coming back to the downbeat, the one.
We would be doing all this progressive stuff as well as other stuff which was more commercial and it ended up as a bit of a burden for us. I guess we wanted to do this cleverer stuff but what the world wanted was 'Hold Your Head Up' Mark II and Son of 'Hold Your Head Up' and of course being musicians we were too stupid to give it to them.
Fortunately. 'God Gave Rock n Roll To You' came out and that evened the whole thing out. But regardless, it was a wonderful time and we all wanted to see how far we could push ourselves.
Musically, I have to say, it was rewarding and we did spend a lot of time in experimentation – 18 beat bar anyone?
Let's talk about the business of music - it's obviously changed through the years. What's your take on it from your experience?
Brian: For me personally, I didn't know anything about the business back then. I didn't know about publishing. If someone published your song, they were doing you a favour. What it really meant was they were going to take 50% for doing bugger all.
The business side of things we didn't know because we were naive; all we wanted to do was play the instrument. We'd go out there, make a noise and if someone out there gave you a few bob, then that was great. Through my experience, you'd do a deal and work with people who were honourable and gave you a good to fair amount of money and if you were lucky enough and weren't greedy, then everyone was happy. But a lot of the time and even now, you have to watch people who are after something for nothing.
I've used this example before. If you put eight hours into your craft and you're good at it, then you want paying for it, it's your job! You'll never get someone round to fix your drain or electricity as a favour. They've studied their craft and they want paying for it. A lot people perceive it as, well you enjoy yourself and it's just making music.
It's like copying records. You go into a studio where hundreds of thousands of pounds are spent to make an album and then someone comes along only to copy it. It's exactly the same as going to a supermarket and saying I'm not paying that for that piece of cheese and then 'nicking' it; it's stealing, it's exactly the same and there's absolutely no difference.
If you want a record then pay for it. If they've downloaded it for free then there will be nothing left in this business and no profession for musicians. That's one of the reasons the business today is in such a bad state because it's being mismanaged by a lot of greedy people who want it but don't appreciate it.
Clem: I rang up to put a band in and as soon as I mentioned the price, they said: " Christ, that's a lot of money". I then said, you phone up three or four plumbers and ask them to work from six o'clock at night to one in the morning and see how much they charge you. Whatever they charge you I'll charge you half. They wouldn't do it. People don't expect it but with us, they expect music is for nothing. The problem is and like Brian says and rightly so, if music isn't paid for, there ain't going to be any music because it costs money to make music and record it. If people start downloading and taking stuff for nothing, there isn't going to be any music or any industry left.
Bob: Phil Gould said something recently on Facebook, let's not do any more recorded music, let's just do gigs. No one is going to be able to steal a gig and he's got a point. But as an example, I'm pleased he made that statement. I've made my mistakes with record companies and we all have but I'm sort of pleased I'm not dealing with that side of it. My son Jos is a drummer in a great band and he hasn't been paid once for any of his gigs. Of course he's having that same stick and carrot held in front of him that we had. In the beginning we didn't think about getting paid.
All of you have been judges on Mike Dolbear's 'Young Drummer of the Year', what's your view on the standard of those drummers who had qualified for the event?
Brian: Some of the things these kids are doing is unbelievable. They're fit and flying around their kits at 100 mph but on a couple of occasions where we've been judging them I've felt what they're doing is great but at times, I just wanted them to give me a groove at 120 bpm, something where a singer or guitarist has a safe solid ground and I felt that they can't do that. Granted that they're young and on a learning curve but they seem to want to learn the chops before the groove and it's like running before you can walk.
When click tracks came in, a lot of people went out of work 'cause they couldn't play with a click track. When you first start, it is daunting.
Bob: It's not just daunting, it can be inhibiting. I don't know anyone who can successfully play a shuffle against a click. It's the peaks and troughs of that type of groove that make it work.
Clem: I remember doing this event, Rock Masters, and there was this girl and chops wise I was sitting there with my jaw dropping, she was phenomenal.. Her technique and precision was absolutely incredible. I said to her it would be good to do a drum solo because she was up against a whole load of lads and it would be something different. I said why don't you do 'Tequila', there's lots of Latin bits in there which goes into a straight swing and would be a good basis for your solo. She could not play the swing part. I sat with her for three days trying to teach her to play swing and she could not play it even though her technique was out of this world
Finally, through your experience, what would be your piece of advice to a young player who wants to take drumming up seriously?
Brian: First piece of advice would be to get a good teacher and good technique. It doesn't matter what style of music you get turned on to, it's not going to be any good without good technique.
This applies to anything in the world whether you're a writer, a golfer or in any other profession. For example, Tiger Woods practices around ten hours a day to get that good and stay on top of his game. The combination of having a great passion for wanting to do it, the feeling that music is a calling, a spiritual thing, your soul's in it and add to that discipline and determination, then all you'll need is a bit of luck at the end of it.
Bob: I can add to that. Make sure you're a nice guy. Nobody wants to hire someone who's a nasty piece of work. There are more than enough problems in the music industry from the business side without musicians fighting amongst themselves.
Clem: Go out and do it, go out and do it and have fun. I know it's very difficult for kids these days to get to play with other people. I feel in some cases that kids these days get bogged down with too much technique. The kids want to be a Dave Weckl in a fingersnap. They all want to be Olympic drummers but when you're in a session, they don't want these kind of drummers. More importantly, don't just train your hands but train your ears too. Listen to other musicians not just yourself. Those are your best weapons so use them to play the song and be respectful. Work hard and if you get good at it you'll always work, there's no doubt.
Interview by Jerome Marcus
Photos from London Drum Show 2012 by Dave Hughes
Please log in below if you wish to add your comments on this item. If you are commenting for the first time, you will need to register for security reasons.