The Jordan Terris Memorial Drum Festival 2013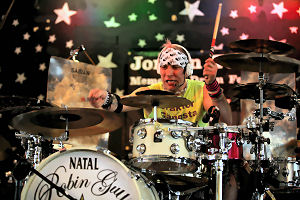 Robin Guy
The Jordan Terris Memorial Drum Festival 2013
Recently the drumming community came out in force to back an important charity event. On 24th February some of the UK's top drummers took time out of their schedules and made their way to The Co-Operative Club in Nuneaton to lend their support to a Teenage Cancer Trust fund raiser. The Jordan Terris Memorial Drum Festival 2013 was created in memory of talented local drummer who died of cancer in 2007 when he was just 15. His mother and step-father, Fiona and Kevin, wanted to celebrate Jordan's 21st birthday year in a way that he'd have loved and raise money for the charity. As a result of the festival's success they were able to send the Trust, which exists to improve the lives of teenagers and young adults with cancer, a cheque for £3000.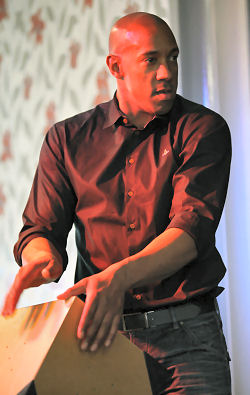 Dion Dublin
The remarkable line-up included Phil Gould, Ash Soan, Mark Richardson, Robin Guy, MikeDolbear, Cherisse Ofosu-Osei, Emily Dolan-Davies and the new Young Drummer of the Year Matthew Brown. The compère was former England footballer and inventor of the 'Dube' percussion instrument, Dion Dublin; who made a superb job of keeping the crowd informed and entertained between performances.
The audience were in for a treat. The artists played a wide range of music, from light jazz to full on rock music. Between songs they talked about their routes to success and gave out wise words of drumming advice. Needless to say, all of the drummers gave of their best and they all left the stage to rapturous applause. After their performances, they took the time to mix with the crowd; signing autographs and making everyone feel welcome. They made special efforts to inspire the young drummers in the room.
There isn't space here to do proper justice to several hours of superb playing by the artists, but here's a very quick run-through.
Matthew Brown opened the proceedings by playing the kind of solid grooves that had won him the Young Drummer of the Year title on February 3rd.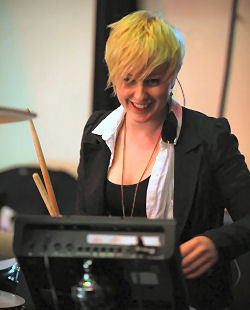 Emily Dolan-Davies
Former school friends Cherisse Ofosu-Osei and Emily Dolan-Davies took to the stage together, playing with an exhilarating, joyous energy. It's easy to see why they have gone so far in their careers, playing for the likes of Paloma Faith and Bryan Ferry.
Mike Dolbear took a novel approach. He started his performance by playing with brushes on a snare drum as a full kit was gradually constructed around him. As the kit expanded, he brought in the added drums and cymbals and ran through different styles in what might be called a medley solo. He was joined by Dion Dublin on one of his Dubes for an improvised session.
Robin Guy, who has since been voted Drummer of the Year at the Pure Rawk Awards, brought his amazingly energetic style of playing to the stage. Ever the showman, Robin captivated the crowd with his percussive gymnastics and talked about his approach to drumming and music.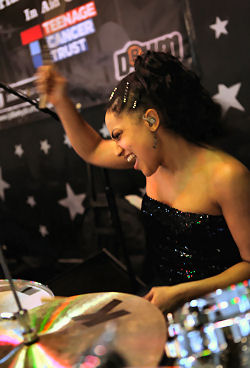 Cherisse Ofosu-Osei
By way of contrast, Level 42's respected sticksman Phil Gould put on a display of measured, masterful groove. He was joined on stage by one of the most in-demand drummers of the age, Ash Soan, who followed Phil with sublime rendition of 'Slave to the Rhythm' before they joined forces.
Mark Richardson brought the day's performances to a close with a controlled but immensely powerful set, running through some of the Skunk Anansie songs that he has put his unique mark on. His beautiful, hand decorated drum kit survived unblemished after being put through a pounding that would have turned most drums into matchwood.
At the end of the day, Kevin said, "It was amazing. All of the drummers were so generous and everyone enjoyed the day. We'd like to thank the drummers and helpers, the people who came and the drum community for all their support. A lot of companies and individuals donated prizes for a really big raffle too, and Mark Richardson gave us one of his snare drums to raise extra cash for the charity".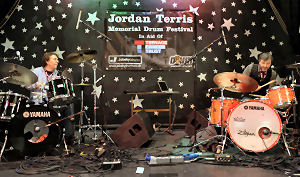 Phil Gould and Ash Soan
This was the second drum festival that Fiona and Kevin had organised, the first being in 2010. Encouraged by the success of both shows, and thanks to the generosity of more first class drummers who have already signed up, they are planning another in two years' time.
Photos: myb777 Photography
Words: Jeremy Peake

It was so nice to be involved in a great day and hopefully we did Jordan proud - I know he was there with us watching and learning


Mike Dolbear, 15 March 2013
Please log in below if you wish to add your comments on this item. If you are commenting for the first time, you will need to register for security reasons.