Vintage View - Dixon
Vintage View - Dixon
Dixon started out making what could, at the time, best be described as affordable drums, but as I write this in February 2015 things have changed. That's not to imply that the latest Dixons are not affordable, I'm sure they are, but they've moved further upmarket with better shells, finishes and endorsers - Greg Bissonette and Mel Gaynor amongst others.
So the whole Dixon story began in in the nineteen-eighties and I was surprised to discover that the first time I ever reviewed them (according to what I used to think was the definitive list of articles I've written) was when the now defunct FCN were distributing them. This seems to have been as recently as 1991 not long before International Musician magazine closed down. The reason I was surprised was because four years before that I toured around Taiwan and saw Dixon being made by a well-respected company called Reliance in Taipei - these guys also made for other drum concerns like Trak, Rogers and the second version of Hayman. So my guess is that they didn't arrive here in the UK until I saw them in Tonbridge at the end of the eighties.
Reliance is a prestigious company which had been working since the seventies producing their own drums, although they didn''t appear to have a main factory as such. Instead they co-ordinated the fruits of several smaller factories from their offices in Taipei. Most of these places seemed to be huge sheds with fields surrounding them situated in the middle of the country in the Taichung area. Here I was told labour was cheaper and drum components were more readily available. Incidentally, those Oriental scholars among you will no doubt be aware that ''chung'' means middle, while ''Tai'' means Taiwan and 'pei' means north...
Almost thirty years ago I sat with Joseph Chen from Reliance in his Taipei office and discussed drum manufacture in the Republic of China, and he filled me in on a few pertinent facts. He told me the reason that the Taiwanese are able to make drums at all is because the people are very well-educated. The country has a 95% literacy rate. Indeed, everyone working in administration, buying and management at all the companies I visited had a degree of some sort, mostly in languages (invariably English and Japanese), as well as business studies. Politically, I''m told, they sit somewhere in between the ideologies of the first and second worlds. Perhaps this is why all the Taiwanese companies unashamedly collaborate with each other as far as free-flow of parts and materials is concerned.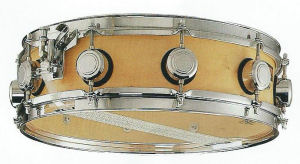 The drum that started it all for many drummers...
Strikes are unheard of in Taiwan because, firstly the cultural mentality and work ethic of the Chinese would not condone it, and secondly the workers receive a company bonus at the end of every year - providing everything has gone well. They''re unlikely to jeopardise this windfall by antagonising the management before they get it.
(Ten years later I established a business connection with Reliance when they produced the shells and hardware for the Arbiter 'AT' series drums I was involved with.)
OEM is an acronym for Original Equipment Manufacture and this is the way drums and other pieces of musical equipment are/were traditionally made by serious musical instrument companies like Reliance in Taiwan. I use the past tense as an alternative here because much of this OEM activity has since moved to mainland China.
I went to the factory which made the drums themselves for Reliance which was situated in a collection of buildings well out of the city, where at the time they made Dixon, Trak, and basically 'A.N. Other' drums - Asama and Isuzu were typical of the names they used to put on them in the eighties. The customer would simply provide them with the name he had probably agonised over for his product and the OEM company would design a badge for it and put it on whichever of their ready-made drums the customer could afford, before shipping them out to him in his very own 20 or 40 foot long container. However if he wasn't buying enough to fill even the smaller container, besides the fact that he wouldn't be able to buy at such a good price, the goods would need to be consolidated into a shared container with merchandise destined for another distributor and this frequently had the propensity to delay their expedition and their delivery.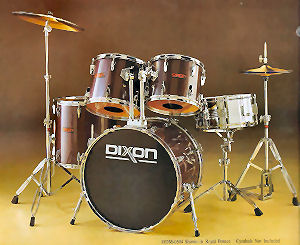 Dixon Magna
If everything went well, a month after the ship left Taiwan it would arrive in Europe and the goods would be landed and transported to the buyer's warehouse before finding their way as quickly as possible (as far as the wholesaler was concerned) into the shops. The whole process would then be repeated as often as the wholesaler could afford to do it.
Of course there was a flaw in this plan because if he waited 'till he'd sold out he would have to order more which wasn't easy because if it wasn't a bog standard set the manufacturer would frequently have to make what he wanted more or less from scratch. This could result in a wait of three months before the order arrived. So to make sure he had drums in stock he would have to make a 'guesstimate' as to how many he might sell and to be safe, order replacements for these up to a month before his present shipment had even left the ROC.
So it's obvious there are a lot of imponderables involved in this particular activity because if the distributor didn't sell everything he'd last ordered from the manufacturer he'd unfortunately be stuck with stock in his warehouse he'd paid for quite some time before - often with a new shipment arriving). Conversely, if he didn't have enough on the way from the manufacturer there would be a distinct possibility the end-user would buy something else. So it's a question of balanced forward planning when you establish the critical supply chain, if you want to successfully wholesale musical instruments (or anything other than Levis jeans) which everybody wants. And it ain't easy to get it right - see the second paragraph about the sad demise of FCN.
So there you have it, a beginner's guide to making a small fortune selling drums...mind you I'm told there is another way to make a small fortune in the drum world and that's to start out with a large one!
Here endeth the lesson!
To get to the point, Reliance International corp. used to be responsible for the short-lived Oriental Haymans brought out by Arbiter as well as those Rogers '360' and '380' sets (or at least the ones not built by Yamaha). But, by the time I arrived in Taiwan another American wholesaler had acquired the rights to the illustrious Rogers name, and they were made in another Taichung factory which I didn't get to. I''d like to have visited them to see how (and if) they really were making the very complicated Dynasonic snare drum emanating from Taiwan as supplied with the late eighties versions of Rogers kits produced for Island Music in Miami!
All the Taiwanese factories at the time typically formed shells from ready-made 'plywood', using heated formers which used hydraulics to shape them, but they also used more recognisable woods: asam and mahogany and nowadays they even use maple which has of course become the industry standard, even though it certainly doesn't grow in the Orient. Their shell lacquering though which was a new venture at the time, whilst using relatively unsophisticated machinery, was actually pretty good.
In 1987 Reliance showed me something which I suspect no one else was making at the time: a one- piece aluminium snare drum. Ludwig weren't making theirs at the time, and since it''s quite a complicated turning process to make a shell from a single disc, and I didn''t see any evidence of the large lathe necessary to accomplish this 30 odd years ago, I didn''t know how it was being done.
The earliest brochure I have from Dixon is coded 8901 which there are no prizes for guessing was January 1989. At that time there were two serious sets on offer: Celebra and Lumina. Celebra had 4-ply shells (8 mm thick for the basses and 7mm for the toms) with inner and outer plies of Canadian maple and two plies of an unspecified hardwood inside them; Lumina had a single inner maple ply and three hardwood outers. Celebra shells were lacquered with seven coats and available in: Natural Maple, Snow White, Jet Black and Cherry Red. Luminas were covered with synthetic metal sheets in nine different colours. The Celebra kits came with wooden snare drums but the cheaper sets at the other end of the spectrum, Magma and Prima, had steel-shelled snares which are traditionally easier (therefore cheaper) to produce.
With just one exception, all of Dixon's nutboxes were single-ended, plinth-mounted and arrowhead-shaped; and, as per usual to save money the cheaper sets were fitted with less of them. These arrowhead lugs were on the 8" deep snare drums too.
There were double-ended versions which were used on the narrower snare drums. All toms and snare drums were equipped with square-headed tension screws while the bass drums had 'T-handled' tensioners with pressed-steel claws.
While I'm on the subject, there would appear to have been three diameters of bass drum produced by Dixon: 20, 22 and 24" either 14 or 16" deep. The Celebras had matching wooden hoops while everything else had pressed steel hoops.
This was the era of 'Power' toms so naturally Dixon drums had them too in various depths: 12 x 10, 12 x 11, 13 x 11, 13 x 12, 14 x 13 as well as more regular 16 and 18 x 16" floor toms. There was an anomaly with Dixon floor toms because they listed one which measured 16" in diameter by 15" deep, which is unusual and because it has fewer overtones, is close to being my favourite size for recording: 16 x 14".
All toms were fitted with triple-flange hoops although there were two different thicknesses available: 2mm thick Dyna-hoops for the more expensive drums and 1.5 mm for everything else.
5000 series snare drums were Dixon's top of the range offering which could be made from maple, brass or steel. They had a 'precision engineered' strainer system called Supersensa. It had an adjustable throw-off which dropped the snares as you pulled the lever away from the drum and an adjustable butt-end. Below each of these units were a pressed-steel bracket with sprung horizontal rollers "for parallel action" which the doubled over, plastic strips attached to the snares run over. The ends of the snares were protected where they protruded from the drum by a substantial bent-rod guard. The brass shell drum had the same 'fixtures and fittings' as the wood drum except it had 5 trenches in the shell to stop it buckling, was 1.5mm thick and measuring 6.5" deep had no room for the arrowheaded nutboxes. Instead it had the double-ended versions I mentioned earlier. Brass or metal 13 x 3.5" piccolos were available too with shortened, double-ended, nutboxes, although the equivalent 14" diameter steel-shelled versions
had Hayman-style plinth-mounted turret nutboxes. I remember the 13" piccolos were rather successful because the steel one was £63 and the maple was £68.
As far as the 'fixtures & fittings' were concerned in essence Dixon's were 'generic' so no different to anybody else's coming from Taiwan except for the name on the footplates of course. There was a reason for this they were ostensibly the same because most of them were coming from the same factory, or at least the parts to produce them were! Of course some were better than others but there really weren't too many options other than cheap and cheaper! I've saved a retail accessories' price list so with a 9000 series hi-hat stand at £44, a cymbal stand at £38.50 and a double bass drum pedal for £143 I'll leave it up to your good selves to make a decision as to whether they were more affordable then.
In essence expensive generic stands had double-braced legs with heavy-duty rubber feet, ratchet-angle attachments, cast blocks with nylon inserts on the cymbal stands and short booms. Cheaper stands had single braced legs and definitely weren't designed to last forever!
There were several different double tom holders available and Celebra's had a nylon ball and cage version with L-arms embedded in the ball and a single wide-bored tube which located into an ornate cast block fitted to the bass drum shell. The 'L-arms' located into cast blocks containing 'O-bolts' which are fixed to the tom shells and double as leg holders. (There were pistol-type tom holders too from Reliance which were fitted to their Magna and Prima sets which mated with receiver blocks fixed to the shell and offered more lateral adjustment.) As we have come to expect ratchet swivelling Spurs were on Dixon bass drums and they were telescopic with optional lockable, spike or rubber tips.
It's difficult to tell from the photos in the catalogue what sort of heads were fitted to these but since at the time I was in Taiwan there was talk of a liaison between Remo and Reliance (which ultimately gave rise to Remo-Asia) it's not too much of a stretch of the imagination to think these were early versions of that offering.
I intimated at the beginning of this piece that Dixon made 'cheap and cheerful' drums and when they started that was absolutely true and they knew where the hole in the market-place was and went out of their way to fill it. However by the time they got round to making these Celebra sets they were looking to fill a different niche in the market at the same time. One where drummers wanted quality AND a good price. And with its lacquered finish and perfectly serviceable hardware and fittings Celebra was moving them slowly but surely in the right direction.
The top end of Dixon's offerings were certainly not 'FEPOS' as I've read on drummer's forums while I've been researching this – they simply reinforce the rule which says you get what you pay for, a rule which would appear to be reinforced by Dixon's 2015 product line.
Bob Henrit March 2015
Please log in below if you wish to add your comments on this item. If you are commenting for the first time, you will need to register for security reasons.