The Dube
The brainchild of English football-hero-turned-TV-presenter Dion Dublin, the Dube is essentially a wooden cube with multiple playing surfaces.
Sizes range from a nice dinky 9" up to a monster 18" and are available as a simple acoustic instrument or fitted with an internal microphone for those who want to simply plug and play. For the purposes of this review I have a plain white 12", with the internal mic.
Each of the surfaces of the cube each has a slightly different tone and the Dube lends itself to rhythms in much the same way a set of congas might, different pitches but the same overall tonal quality of sound.
Although the finishes on offer are plain (natural wood, black or white) I don't really feel that's much of an issue as you could quite easily do a customisation job on it yourself if you wished, much like Courtney Pine has done to his.
Each corner of the Dube is also fitted with a plastic cover, which serves not only to protect the structural integrity of the instrument but also to protect the eyes of anyone who might inadvertently try to play it with their face(!).
So where does the Dube sit in the long line of percussion items available today?
Let's get one thing straight; it is NOT a straight up Cajon replacement, at least as far as I'm concerned. There isn't a ''snare sound'' replacement and you don't sit on it for starters! Also, it's quite different tonally.
As I mentioned before, it has similar qualities in some ways to congas and although there is no replacement for a proper percussionist playing a full set of congas, there are a lot of plus sides to having the Dube.
For a start it's smaller, lighter and more manageable than a full set of congas. The optional internal microphone makes putting it through a sound system as rudimentary as is possible, connecting through a discreet XLR output under the handle.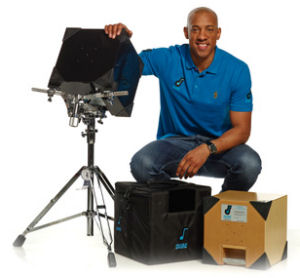 Dion Dublin
As far as the sound of the internal mic goes, one sound man I used the Dube with wasn't convinced by the internal microphone and opted to use two external mics in order to get the best sound. The sound each Dube sends via the internal mic will also change according to size, so it's hard to tell what the others might sound like as I only have the 12" to play with.
One of the clever things about the Dube is the handle, which actually works as part of the mounting system with a customised stand.
If you can imagine a snare stand base, with a modified snare basket in a T-shape, then replace the usual snare bracket with a clamp which closes around the handle.
It's a very clever piece of kit and one that really feels secure, without affecting the sound of the instrument itself.
This ability to mount the Dube is another big tick in the plus column, because you can have it between your legs in the place of a snare, whilst playing bass and hi hat pedals, or mount it in place of a second snare for example.
It's not going to be right for every song obviously but it's another little thing I liked, along with the stylish and rugged custom built soft case.
With guys like Stanton Moore, Pete Locket, Courtney Pine and Thomas Lang all giving the Dube a run out, it's fair to say it's captured the minds of those with perhaps not just the skills but also the disposable cash, I worry though that it may be a little expensive for the guy on the street with a limited budget.
At the time of writing the 9" acoustic Dube (cheapest) costs £117 and the 18" with a mic (most expensive) is £320, prices vary in between dependent on size and mic options. Add in a case and the custom designed stand and suddenly that price has risen considerably.
When it comes to the crunch I feel people will compare it to the Cajon and decide it's "either or". Given the base price of the instrument alone is a higher than many Cajons and the fact it doesn't have that ''snare'' sound, I think it may lose out and that would be a shame because fundamentally I really like it and think percussionists should absolutely check it out.
Rob Crisp
Please log in below if you wish to add your comments on this item. If you are commenting for the first time, you will need to register for security reasons.