DOWNLOAD FESTIVAL Donington Park (Day 1)
After months of waiting here we are! "The Home of Rock and Metal - Donington Park" and it is set to host the first ever Download Festival and with a 'to die for' line-up for nu-metallers and rock fans.
I bring along Sam Wallace an ardent nu-metaller and a regular contributor for SABIAN to help cover a very busy schedule of reporting.
To set the scene, this festival is contained smack bang in the middle of a motor racing track and there is an expectant 120,000+ people over the next two days.
The sun beats down at 30 degrees and blessed us with a fabulous weekend - great weather to bring out a vibe, great music which was what we're here for - we know this will be a weekend to be remembered! (or try to!!).
Whilst Sam pitches his tent in the camping ground, I head down to the official site to sign in for my official photo pass for the weekend. Closely escorted to a V.I.P. photographers area, I find that all official photographers would be shuttled to the Main Stage by minibus - I now head off to catch 'Murder One' with endorser Jammer Airns.

Jammer Airns (Murder One)
'Murder One' throw down the chequered flag and open the Download Festival on the Main Stage to a good 6,000 strong audience who give them an enthusiastic welcome.
Jammer is physically a large person and I am absolutely amazed at the speed of his bass drum work and sustaining stamina for the demands of 'Murder One's brand of nu-metal.
Andols Herrick (Chimaira)
Whilst I look after the Main stage, Sam hits the 2nd stage, 'Scuzz Stage' and reports:
"The Scuzz stage is situated at the back end of the Main Stage and it felt like a million miles from it. So I was happy to see 4,000+ people catch Chimaira seeing as the festival had just opened its doors!
Chimaira is the first band to hit the Scuzz stage @ 11:10 and the band nearly ripped a hole in the roof with their 'old' meets 'new' school Metal. I love this stuff and as the pits emerge and bodies fly to "Pure Hatred" and "Severed" drummer Andols Herrick and the rest of the boys come off stage knowing they've won a lot of people over, the waves of horns in the air prove that" - Check them out: www.chimaira.com

My mobile phone rings and it's Adrian Erlandsson (Cradle of Filth) who I'd previously arranged to meet and he is running late for the festival. More importantly, he is just about to miss his brother and drummer of Swedish nu-metal outfit 'Arch Enemy' - I keep the phone call pretty brief and arrange to meet him in the VIP hospitality area later as Arch Enemy's set is just about to begin.
Daniel Erlandsson (Arch Enemy)
Arch Enemy rush on stage with guitars blazing with the opening track 'Enemy Within' from their latest album 'Wages Of Sin'; but where's the singer!!! Suddenly, she comes on stage, yes!! their vocalist is female - Angela Gossow - wow! Jaws drop as she delivers her metal performance and gives every male metal vocalists a run for their money.
Drummer Daniel Erlandsson powers away even through those fast interludes keeping consistent time and injecting thunderous rhythmic punches. Arch Enemy leave a set packed with energy and spirit, Angela hails to the audience "........thank you - we'll be back". This Swedish band have to be credited as one of those upcoming bands who have swamped the Japanese market winning their Band of the Year Award in 'Burn' magazine and a review of their current release 'Wages Of Sin' quotes "a near perfect album". Need to know more...check out - www.archenemy.net

The photographers shuttle moves off to the Main Stage and I run banging on the side of the minibus. Just in time, it stops, I enter the shuttle huffing and puffing demolishing a bottle of cold water offered by the escort as we make our way to catch Amen's set on the Main Stage.
Blake Plonsky (Amen)
As you have probably read on the website, Amen were voted 'Best Live Act' at the Golden Gods 'Metal Hammer' Awards 2003 (Click here to read more).
Amen give an awesome performance with front man Casey Chaos dominating the stage with his antics. The band throw out their brand of anarchic metal and a fistful of moshpit anthems with irresistible singable choruses screamed by the audience who love every single minute.
After Shannon Larkin's departure to Godsmack, L.A. drummer Blake Plonsky stepped in the drum seat to fill a difficult spot both as a member and drummer - he didn't fail to deliver. Blake plays with fire, expression and great attitude; his conviction is 100% and to sum it up Amen have found their drummer - he was in fine form and I was impressed!! His cymbals take on AA Metal-X sound and I believe he has found a fondness for the 24" Ride.
There is more to come from Amen - for the latest: www.refuseamen.com

Now where is Sam......!
Meanwhile, I shuttle back to the VIP hospitality area only to bump into Andols Herrick (Chimaira) and Dan Foord (Sikth) and as we get the introductions and a few snapshots over and done with Sam turns up and enthuses over Stampin Ground's performance on the Main Stage:
Neil Hutton (Stampin' Ground)
"I trek to the Main Stage to see that UK nu-metal favourites Stampin Ground are about to come on. This hardcore lot has been compared to the likes of Slayer in the past but all of that is about to change. New drummer Neil Hutton. Airing a load of new material today that will make waves when it's released, and also starting something called the "Wall Of Death" where the vocalist (Adam) separates the crowd and then crashes them back together when the song kicks in.....they play an awesome set! No doubt you'll be hearing a lot more about Stampin' Ground soon.

I need a beer after that! So I go BACK to the V.I.P area where the beer is!!.....and also Jerome!"

It really is turning out to be a great day as I meet up with fellow SABIAN endorsers Darren Toms (The Hurt Process) - a faithful metal supporter enjoying the day and a beer or two, Robin Guy (ex-Bruce Dickinson) - always a joy to meet, Tommy Decker (Spineshank) who will be performing on the Main Stage on Day 2, Tom Schofield (Soil) getting ready for his performance later today.
Meanwhile, Sam reminds me that Sikth are about to come on stage:
Dan Foord (Sikth)
"Dan Foord and Sikth come on......opening with "Suffice" and running through most of the numbers from their current EP "Let The Transmission Begin" as well as some new ones from their forth coming debut album" The Trees Are Dead And Dried Out Wait For Something Wild" . Sikth are leaving people either with a big grin on their face knowing they've just seen a 'killer' show from these UK up and rising stars OR bemused, not too sure how to take or make of what they've just seen. I've reviewed Sikth before for the Sabian website and there's no doubt that Dan Foord is one of the best up coming drummers around, he keeps proving himself again and again!" ...check them out: www.sikth.com
Soil, this band keep pushing themselves to remarkable extremes to deliver great metal melodies and riffs that set you rocking and their stage performances are no different. Sam is a huge fan so here is his take on their Download debut:

Tom Schofield (Soil)
"I love this band! Soil kick off with "Breaking Me Down" with such energy that flows throughout, it is a boast that is needed in this mid-afternoon heat! The crowd are lapping this up, singing along to every word that comes out of Ryan McCombs's larger than life vocals Tom Schofield is on top form as always! but Its the new song "Pride" that becomes the highlight. It is everything that you'd expect from Soil and a whole lot more, the chorus is catchy, the verses are driven.... I cant wait to get hold of their new CD pressing when its released - a sure fire classic right there!!
If you haven't savoured their current album 'Scars'', it's highly recommended" - www.soilmusic.com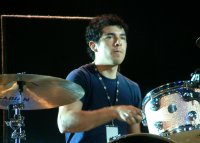 Carlos De La Garza (Reel Big Fish)
Reel Big Fish offer their brand of ska/punk which at this stage of the day is a welcomed change to a day of very hard music. They have a relentless touring schedule which bring them to the U.K. where they have a tremendous following amongst university and college students - so it's hardly surprising to see the Scuzz tent packed for a dose of pogo jumpin' good time music. With this band it's not about waving those hand horns but who can jump the highest and believe me the place was literally jumping like a human cyclone as the band offer up their selection 'Where Have You Been?', 'Monkey Man' and 'She Has A Girlfriend Now'.
Drummer, Carlos De La Garza plays a simple four-piece kit with a combo of HH and HHX keeping it simple, ska/punk and rhythmically feeding the songs.
Last year's album 'Cheer Up' gathered momentum creating a huge stir in the U.K. Their appearance at Download was very much embraced and the band were rewarded when their version of the 'A-Ha' hit 'Take On Me' had the audience singing louder than the band - you can get more at www.reelbigfish.com

The days' work is done and it has been a very good day I join Adrian Erlandsson and his wife Amber and brother Daniel to the Main Stage to enjoy Saturday's attraction Iron Maiden - brilliantly crafted stage show from their performance to their sound.
The night now draws to a close for me as I leave the festival for my hotel only to return tomorrow for Day 2.

As for Sam: "........the night comes to an end we head backstage for a few beers. Jerome doesn't stay long but I do and catch up with Tom from Soil as we haven't seen each other for a while. Today was one of the best days at a festival I've been too, its been very well organised, the line up was awesome and the vibe so far has been brilliant.....Bring on day 2!!

.....now where's my tent?!"

by Sam Wallace &
Jerome Marcus
(Percussion Marketing & Artist Relations Manager)
Pictures: Jerome Marcus

Please log in below if you wish to add your comments on this item. If you are commenting for the first time, you will need to register for security reasons.