Alpine Earmuffs for Drummers
New from Alpine are a pair of earmuffs designed specifically with the drummer in mind, boasting a SNR-value of 25 dB. The two models I've received are the standard Alpine Earmuff and the kids edition called the Muffy.
After doing a bit of research, it seems the only difference between the two models is marketing. They are the same size, have the same noise reduction value and are both extremely comfortable.
The difference is purely in the colours; black is obviously not as appealing to little drum legends in waiting and so the Muffy comes in blue, white and pink with a striped headband.
All very nice and although Alpine's claim that wearing the Muffy will help "increase concentration in school", I don't think any kids will be wearing these voluntarily in the classroom.
The earmuffs are extremely well made and have what I would consider to be quite a low profile, especially for the protection offered. The quality is really nothing less than I would expect from Alpine, who are known for making a good product.
A really nice feature is how the individual pads move up and pop securely into place under the headband for storage and transportation. It's by far the best design I have seen on muffs or headphones like these.
One thing I have discovered over the years is that I often pull a face in order to create a gap between the muff and my ear, allowing the external noise to penetrate. It was a big problem when I played with some over the ear isolation headphones in the past, so I was keen to see what happens with these.
I was actually impressed as no matter the face I pulled, the muff stayed in contact with my face, maintaining the protective seal.
There's no denying these are an extremely good product for the very reasonable price of £17. That's basically the same as a pair of their reusable ear plugs. Alpine also offer a "Muffy Bag" separately to store and carry your muffs in for an extra £3.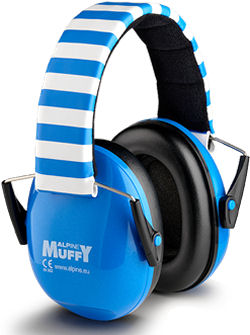 If you're feeling brave...
It would be nice if they gave away a free bag with each pair, or just include it in the price, but ultimately these are very good muffs and for home practise or just general protection and I'd highly recommend them.
www.alpinehearingprotection.co.uk
Rob Crisp
Please log in below if you wish to add your comments on this item. If you are commenting for the first time, you will need to register for security reasons.