Vintage Views - Hamma
Hamma drums were made for EMI and distributed by Rosetti (with a single S) who were a long-standing musical instrument company. They had been launched in the twenties by a chap called Arther Rosetti, who based it initially in London's Old Street. He sold the company to Thorn/Emi in the late seventies, hence the drum's affiliation with an offshoot of the Beatles' record label. 
All Hamma drums were widely advertised as being made in Wigston, UK and if that wasn't clue enough to their birth-right, it was an exceedingly open-secret they were made by Premier. This was blatantly what they used to call 'badge engineering' in the motor trade and in reality the Hamma set was simply a Premier 'Elite'. I can't tell you exactly how successful Hamma drums were, although they were available for at least a couple of years and we certainly had one set on the shop floor in Drumstore - but I have no idea how many we (or Rosetti) sold. To be honest I always got the impression that they (perhaps like Premier) were being sold more successfully in English-speaking countries around the world than they were here.
To make stocking easy for everybody there weren't lots to choose from and since they were only available in variations of one set, what you saw was very definitely what you got - albeit a Premier Elite with a different badge! To my knowledge they didn't have any endorsers and they didn't exactly invest in double-page spreads in the magazines of the day.  I know I did do a ''Drumcheck'' review on them for 'International Musician' magazine when they came out in October 1976.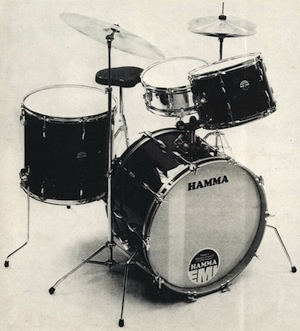 In the beginning there were just two kits on offer under the Hamma name, both variations on the same theme. The '770' was a five piece with 22 x 14 bass drum, 12 x 8, 14 x 10 and 16 x 16" toms along with a 14 x 5.5" metal snare (making it a Premier 'B304' in disguise). The '660' was a four-piece with 22 x 14, 13 x 9, 16 x 16 and 14 x 5.5" wood snare (which made it was essentially a Premier 'B201'). The catalogues eventually showed other configurations like the '880' which boasted a 24" bass 16 x 16 and 18 x 16" floor toms, and 12 x 8, 13 x 9 and 14 x 10" mounted toms. All the bass drums had double-bent outrigger spurs which were retained by the same blocks they used for the tom tom legs. The bass drum hoops hoops were made from wood and, as was the wont at the time, an over-long felt-strip damper was fitted from top to bottom of the head inside the drum. It wasn't at all sophisticated by Trixon's or Gretsch's standards but it worked rather well if you wanted that 'real' double-headed bass drum sound.   
The earliest shells were made from 3-ply birch with beech glue-rings and sometimes if they ran out of beech, birch with birch rings. They were built in the traditional Premier way – ie the plies laid up in a former and the strengthening rings screamed in later. 
There were also a pair of 5.5" deep Hamma snare drums available at the time: a spun metal-shelled version and another with a beech shell with birch glue rings like the toms and bass. The metal drum had two trenches just below each of its bearing edges, the purpose of which was, as ever, to stop the shell buckling out of shape. The 20 nutboxes were offset at top and bottom and since those days have become known as 'speedboat' shaped. At the time they came out, what with their triple-flanged hoops, this certainly should have sufficed to produce a snappy sound.   
To make stocking and choosing a finish even easier Premier/EMI/Rosetti only made and sold the sets in four colours: black, yellow, white and copper. 
In the beginning they fitted UK built heads called 'Premier Plus' but by 1978 they were leaving Wigston with Hamma drum heads which, since they were called 'Black Spot', 'Weatherking', 'Fiberskyn' and 'Pinstripe' it's safe to assume were made by Remo.
There's no reason why Hamma should sound or play differently to their more illustrious stable-mates and indeed they were actually advertised almost forty years ago as being "for that big fat meaty sound".  Rosetti also stated that they were: "priced well below the top because they were made in low-cost Britain!" Who'd have thought?!
As far as the stands and fittings supplied by Premier for Hamma are concerned this was before any real involvement with Taiwan had begun and they were perfectly adequate by the standards of the time. They were initially supplied with Super Olympic and Beverley kits as well as Hamma drums and eventually the Premier Club range. To differentiate them from Premier's all the receiver blocks were sprayed black. The tom holder had an L-arm which located into these black-painted blocks attached to each tom and they also served as spur and leg holders. 
The 7251 bass drum pedal had twin-posts and a twin ball bearing action;, a single expansion spring, a two-piece cast footplate with a rod stretcher below it, an accelerator cam and a screw clamp to join it to the bass drum. All the metal parts which could be sprayed with black crackle were, and the footplate itself could be turned to within 60 degrees of being at right angles to the drumhead.  
The 7314 three-stage cymbal stands were spindly by today's standards but they did the job. They had single-braced tripod bases with two t-screw lockable cast bosses and drum-key lockable splined ratchets with the usual collection of felt and metal washers and wing-nuts. 
The hi hat was numbered 7313 and sort of spindly too with an anti-skid footplate and rod stretcher to match the bass drum pedal's again with a flat steel long-legged tripod base and smallish bottom cymbal seat and top cymbal clutch. It was said to have a centre-pull action which in reality could more accurately be described as double side pull. 
It didn't have a particularly sophisticated snare drum stand (7315) although again it had extra-long single-strutted tripod legs and two of its rubber-sheathed holding arms were fixed on a tilting mechanism while the third moved in and out of the centre to locate the drum. 
Our old friend, the Premier saddle-shaped stool with the two linked and movable legs and with the downtube acting as the third was supplied with Hamma and called 7246. Much has been discussed about the dangers of this design which was what all drummers had been forced to put-up with during the swinging sixties. It was alright while you were sitting on it but it had an annoying propensity to fall over when you stood up. This of course was a problem if you weren't paying attention and tried to sit down where you thought it was!
The badge attached to Hamma was more of a sticker with Rosetti, EMI and Hamma on it. It was a circle with a white hemisphere and the top stating: Made in Wigston England for EMI-Rosetti. The lower hemisphere was white and had Hamma and a large EMI logo. I always thought that the logo on the front head was a Letraset font which was popular at the time but haven't managed to find it on line. In their 1978 catalogue Rosetti were actually offering Olympic drums and the same accessory equipment too, with the same stands as those Hamma offered. Although with different logos.
So I hear you asking, we know where they come from but are Hamma drums collectible? Well the answer has to be yes simply because they're scarce and you simply don't see many of them around.  So get them while they're hot. Hamma drums are definitely a piece of Great British drum history - albeit a small one. 
Bob Henrit
January 2016