Groovers and Shakers - DJ Fontana
I still haven't met DJ Fontana, but I did speak to him on the telephone when he was doing something in a TV studio in Elstree a few years ago. He was born on March 15th 1931 in Shreveport, Louisiana. We know that the 'D' stood for Dominic but depending on where you look the 'J' may stand for Joseph or James. I'm going with Joseph though.
He started out playing his cousin's drum set and by the time he was 14 he was playing in high school marching and concert bands and listening to 'proper' music by the likes of Stan Kenton, Woody Herman and the Dorsey brothers. 
He was also evidently partial to Bob Will's jazzy brand of Western Swing too although this didn't stop him taking gigs in local strip joints playing 'bump and grind' music backing risqué exotic dancers for the benefit of arguably tone-deaf admirers of the female form.  DJ later said this experience stood him in good stead when he was backing Elvis, who built a reputation and a whole career on suggestively moving around as he sang!
When Elvis started with 'The Blue Moon Boys', there was only himself on rhythm guitar, Scotty Moore on lead guitar and Bill Black on 'steam' bass. They'd been put together by Sam Phillips at Sun Records and didn't have a drummer - the very thought of one in country music was anathema to all the aficionados of the genre. So much was it frowned on, that when DJ got the gig as house-drummer for a weekly live radio programme called 'Louisianna Hayride' in Shreveport, his hometown, he was made to play behind a curtain. It's strange this desire to hide him, because initially he only had a snare drum so there wasn't much to hide. The second week he was there the management suggested perhaps a cymbal could be added and as time passed they let him supplement these until eventually they let him bring a whole kit. DJ's philosophy was you could play anything on a little snare drum or a guitar case if you have to – and later on he most certainly did!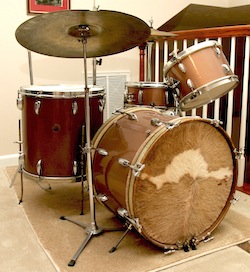 Anyhow, in October 1954 Elvis turned up at the Municipal Memorial Auditorium to play the radio show and DJ, who was hanging around backstage waiting for anyone who needed his services, was recruited to play with them. They talked through the arrangements of the two numbers - 'That's Alright Momma' and 'Blue Moon of Kentucky' - in the dressing room and that was it. The red light came on and they were 'on the air' as we once used to say. DJ said he learned the value of simplicity backing house-hold names at the Hayride and when he heard Elvis, Scotty and Bill he knew he didn't want to mess up that sound. This is why he says he always played the music how he felt it and if that didn't work he just wouldn't do it again. He said his simple approach came from hearing so much big-band music when he was growing up something which he mixed with a modicum of rockabilly - which was simply a mixture of Western music, Country, and Rhythm & Blues. In the beginning though with Elvis he admits he avoided his cymbals and just played the backbeat.   
Elvis certainly liked what he heard, and he and the guys were impressed by the fact that if necessary he could slow-down and speed-up through the song, just like them. They offered DJ a job in August 1955 for a hundred dollars a week which was more than the others were getting (including Elvis) which he gratefully accepted, so long as he could still do the Radio show every Saturday night. I don't know how this worked because most musicians I've ever rubbed shoulders with do their damnedest to work on a Saturday night and I don't see why Elvis wouldn't be the same.
Levon Helm once said: "Elvis, Scotty Moore and Bill Black were making good music but it wasn't rock 'n' roll until DJ put the backbeat into it". 
His first recording session with the guys was in a Nashville church in January 1956 and by this time he had got the knack of not getting in the way down to a fine art.
In his time DJ seems to have played Ludwig, Sonor, Pearl and DW, but it's difficult to know how many of these were simply rentals brought in for shows after he was no longer part of Elvis' operation. Of course the most famous kit of all was the 4-piece Gretsch 12 x 8, 14 x 14, 20 x 14" in Copper Nitron complete with what seems to be their 'Renown' wood-shell snare drum. Apparently when the 14 x 14 was stolen it was replaced by a 16 x 16", although not immediately. Inexplicably he doesn't appear to have been an endorser but I do happen to know something about the acquisition of the set.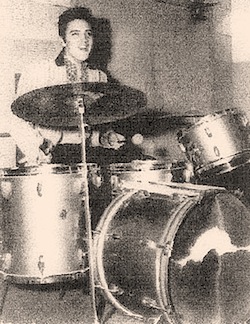 In a previous life I was fortunate enough to be friendly with a chap called Herb Brochstein who founded the Pro-Mark drumstick empire. Like a great many American drummers of my early acquaintance he was something of an Anglophile and we'd sit together at trade shows discussing our mutual obsession with 'drums, drummers, drumming and drumshops' (now there's a name for a book!) Like me Herb was a pro drummer who'd decided to move to the dark side and open a drumshop called Herb Brochstein in Houston, Texas. To set the scene sometime around August 1955 he was sitting in the shop at 2211, Chenevert Street when a gigantic American car pulled up outside, and out stepped Elvis Presley and DJ Fontana who were looking for a new drumset. They weren't taken by anything else in the shop other than Herb's own set which was sitting innocuously at the back of the shop and wasn't for sale. Elvis liked the look of it simply because of the unshaved calf-skin front head which Herb had fitted to it because he liked the way it thickened the drum's sound.  Eventually Herb's arm was twisted, Elvis handed over $500 and the guys walked out of the shop with what was to become the world's most evocative and recognisable drumkit - at least until Ringo's 'Black Oyster Pearl' covered Ludwig came along a decade or so later.  Aficionados with the benefit of magnifying glasses will note that above the evocative round Gretsch badge pinned to the small tom there's a rectangular badge which says: ''Brochstein's Drum Shop''.)  While we're on the subject of gear, DJ used Zildjian cymbals during his Elvis years. 
He worked with Elvis for 14 years and played on around 460 songs with him which, in my humble opinion, were the greatest records he ever produced. I have nothing against the Ronnie Tutt era songs, but as well as he played them, they weren't exactly historic. I'm sure in DJ's time within the organisation, everybody was disappointed if unusually they only sold enough records to go Gold (one million dollars' worth of sales) instead of Platinum (a million records sold)! Oh, and then there's double, triple and even quadruple platinum...
The list for DJ's contribution is exhaustive but I'll give you a few, all of which earned at least a million dollars for somebody:  Blue Suede Shoes, Heartbreak Hotel, Tutti Frutti, My Baby Left Me, Hound Dog, Don't Be Cruel, Love Me Tender, All Shook Up, Teddy Bear, Jailhouse Rock, Treat Me Nice, One Night, It's Now Or Never, A Mess Of Blues, Are You Lonesome Tonight and many, many more.  
These records are enshrined in music history, and all of them still sound great to me even now. It turns out that the song 'Hound Dog' and the (Swiss?) triplets in it were borrowed from a band called Freddie Bell and the Bellboys, who they used to go to see in Las Vegas. But who cares, as far as we were concerned in the fifties, we heard Elvis' version first! 
Of course, he was in all the Elvis Presley films produced during his tenure too, including 'Loving You', 'Jailhouse Rock', 'King Creole' and 'Jailhouse Rock'. 
Sometimes two drummers were used on Presley's records, and when he was questioned about this, with what I think was his tongue in his cheek, his response was: "Because one guy couldn't play all the garbage they wanted you to play!"   
At the Louisiana Hayride he'd worked with all the greats of country music including amongst many others, Johnny Horton, George Jones, Hank Snow and Dale Hawkins. He also found time to play with Gene Vincent whom he described as being a little crazy sometimes! Having toured with Gene Vincent in the early sixties I fear this is something of an understatement on DJ's part! 
DJ eventually moved to Nashville, and played on records by Paul McCartney, Johnny Cash, Dolly Parton and Waylon Jennings. Forty years after the event he and Scotty Moore were still playing Elvis' music and when questioned on how it felt, Scotty quipped: "It sure beats picking cotton" -  DJ Fontana wholeheartedly agreed.  
As with Mark Twain, rumours of his death on September 15th, 2012 were greatly exaggerated, and fortunately he's still going strong!  
Bob Henrit
January 2016
Please log in below if you wish to add your comments on this item. If you are commenting for the first time, you will need to register for security reasons.