Interview with Jost Nickel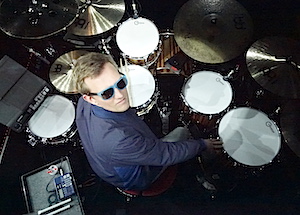 Photo Matthias Mineur
The first time we interviewed Jost Nickel for mikedolbear.com was in 2012, when he appeared at Meinl Festival alongside Benny Greb and Onkel as ĎDrioí. A lot has changed since then; although Jost is still one of Germanyís top musicians, most notably playing for chart busting singer Jan Delay for the last decade, he has now released a tuition book with Alfred Publishing (Jost Nickelís Groove Book) and is performing at drum clinics across the globe. We caught up with him to find out about his upcoming clinics at PASIC and the London Drum Show, being called for the NDR Big Band, and what to expect from his second book, which is set to be released very soon. †
---
Your drum clinic profile is getting bigger and bigger and weíre pleased that youíve been to the UK several times already this year. How have you found the UK clinics?
Iíve only been in Scotland, near London, and near Manchester but clinics are fun to do and I did masterclasses as well so thatís a bit more teaching. I really like to travel and see the world so itís great to go to the UK and do that. When you go to a country that has hired you as a drummer or clinician and youíre a foreigner they always treat you very nicely so, so far, every experience has been good. People donít hire me if they donít want me to be there so it makes sense for the whole thing to be a great experience for everybody.†
As a German musician who plays mostly with German bands that tour in Germany and Switzerland, the whole clinic thing gives me the opportunity to travel and I love that. Next year Iím going to China and that is really amazing; all of a sudden, people want me to go around the world so that they can see me play and I am very grateful for that.†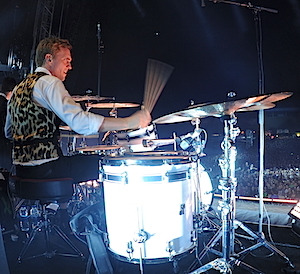 Photo Marco Hammer
Sometimes, when people have peers who do similar jobs to them, they watch them and pick up a few tips. You and Benny Greb are friends who live in the same city and he does a lot of clinics in the UK. Have you watched him and seen if he has a strategy?
No Ė I would be interested but then Iíd need to go and watch him do it. Sometimes I do have the opportunity of seeing drummers doing masterclasses, and itís always really interesting. I would be interested in attending one of his drum camps to see what he teaches and the topics he touches on. But no, I just do what I think is important, what has helped me the most, and what I think people can understand easily and take home with them. This year Mark Giuliana did a drum camp for three days at a place with Florian Alexandru Zorn. Florian invited me along and it was really interesting for me to watch him do a drum camp; I learnt a few things.†
As I do masterclasses myself Iím learning how people teach, and of course some things that they do on the drums that I havenít thought about before. Itís inspiring when you see something from a different angle to how I have done something for a long time. Iím always interested in learning so I go to other clinics whenever I can.
Youíre playing at the London Drum Show this year in the Education Zone. What have you got planned?†
Normally I donít like planning these things because I feel that every audience is different. In London I want to do something along the lines of what I do at Drumeo so itís about orchestrating grooves in a way that hopefully the people who attend the clinic wonít have thought about before, as well as concepts on ghost notes and special orchestrations of grooves. Thereís not so much time and I enjoy playing so there will be a few playalongs, a little solo and then a teaching section with questions and answers. Itís only 45 minutes or an hour and that goes by so quickly. I have so many concepts that I wonít feel unprepared. I donít need to plan too much.†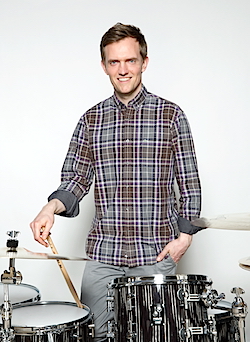 Photo Inga Seevers
Is there anyone that youíre looking forward to seeing at the show?
Mark Giuliana, who we just mentioned. Chris Coleman is also a Meinl endorsee so I know him already. Of course I would have liked to play on the bigger stage but they didnít let me this yearÖ. Iím playing on the Sunday in London and on the Friday before at PASIC in Indianapolis so itís going to be a tough weekend with jetlag. But itís so cool to do both on one weekend. If someone had told me that a few years ago I wouldnít have believed it. All of a sudden Iím in the middle of it and I donít feel like itís even a big thing. Itís great and Iím looking forward to it but itís been step after step so it feels natural.†
Itís not your first PASIC either, is it?
Itís my second.
How was the first one for you?
I was very nervous because itís PASIC but the preparation process there is so good; you can arrive a day ahead if you want to. The drums are set up in a huge room where you can practise and that was important to me because itís a drum set that Iíve never played before. That made me feel so comfortable and so the overall experience was really good. The nerves always stop once I have the chance to sit down at the kit Iím going to play and feel like it all works and sounds good.†
Another clinic situation that youíve been in recently was Meinl FestivalÖ
It was in Warsaw last week and it was in a great theatre. Itís smaller than the venue they have in Germany but it was so nice. When Meinl do a festival thereís hardly anything you can improve. There was very good sound, very good lighting and nice big screens behind the kit so that everybody could see, and it was all at the highest quality. Itís a pleasure to be part of an event like that because not all festivals consider that we are humans who have certain needs to be able to play well. Of course I want to be able to play the drum kit that Iím going to play on for a while and I want to be able to get a good sound. As well as making the festival look and sound good, they are aware of what the musicians need at Meinl because they always ask.
What projects have you got going on at the moment?
The band I have played with the most for the last 10 years is now taking a break because the singer is doing something else. We arenít playing, which is a new situation for everyone in the band. We knew about it before so Iím working on my second book, which is a lot of fun and, of course, a lot of work. There is a band that Iím touring with and we are planning to record another album; thatís with Barry Finnerty, who is a guitarist from San Francisco. We played a few gigs together this year and we are planning on going in to the studio in December. With Jan Delay and Disko No. 1, we are going back into the studio to work on new songs soon. Iím scheduled to play with the NDR Big Band again next year as a sideman, in November 2017. And also, a bass player friend of mine and I are working on our own material and are planning to release that soon.†
Have you played with the NDR Big Band much before?
Not much. I did one recording with them last year. Theyíre very skilled and people say that the brass section is one of the best in the world. Itís a very different approach to recording music to what I am used to Ė Iím used to checking out what we will do in the rhythm section, like the length of notes in the bass, or talking to the percussion player about subtleties and details. But when you record with this band, there is no time for that. They expect you to play a song two times at the most, but normally they say, ĎOh really? Do we have to play it again?í and then thatís really something different.†
Thatís quite an honour to be called for that gig - they have some of the top drummers from around the world coming to play for them, which puts you in great company
They decided against having a regular drummer so now they can ask whoever they want to. A while ago Steve Gadd was there with them, as well as Gary Husband, Ian ThomasÖ some very good drummers. It was something I really wanted to do but itís a band from Hamburg and Iím a drummer from here so sometimes the people in the city where the band is from are not that interesting because theyíre too close; itís too easy!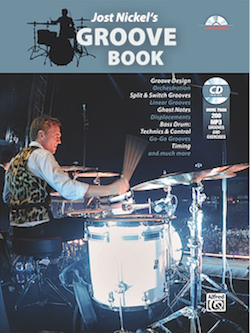 The Groove Book
Moving on to the topic of your books now, a lot of people talk about how important groove is and you tackled that topic head on with The Groove Book. What has the feedback been like on it?
It was really the first thing I had done on my own. Iíd never released any music on my own; I was always working in creative relationships but it was always somebody else who said they wanted to do something and then asked me to help them with it. This was a very good experience and the funny thing is, not one single thought went into what the market needed or what people would want. Of course I take notice of what people say about other peoplesí playing and the thing I did consider was when people said, ĎThe groove here is so goodí. I thought, ĎWell maybe I should make a book out of thatí. I get a lot of positive reactions to the book and that really makes me happy because I know how hard it is to work with books and be inspired; if I can inspire people then that is wonderful because it passes on the enthusiasm and passion. If you can fuel that, thatís a great thing.†
I didnít ever plan that but if youíre passionate about something then people will be passionate about what you do. Iíve never written a book before so I donít know how many copies other books sell but my publishers, Alfred Publishing, are happy and they want me to write more. I think I could write a new book every two years and I have enough ideas for four more. The next one will be about fillsÖ†
Itís my way of looking at things and I want everything thatís written down to sound good. Iím not about all the options you have because if you write a book with all of the options, maybe only 10 will sound good so I want to make a selection of things. I also wanted it to be fun, and I want people to either play whatís in the book or learn the systems that I use for creating these fills. Thatís what I have found to be the best; to learn a system and then use it in your own way.†
When will the Fill Book be ready?
It comes out in German first and that will be by the end of this year. I guess the English version depends on Alfred USA and their plans but hopefully sometime early next year.†
Interview by Gemma Hill
October 2016
Please log in below if you wish to add your comments on this item. If you are commenting for the first time, you will need to register for security reasons.