« Back To Archive Search
Interview with Bob Henrit
Over the years Bob has been the drummer in a successful rock band "Argent", the session drummer working with Don Mclean, Adam Faith, The Kinks, Unit 4 plus 2, and Ray Davies to name but a few The owner of the first UK's major drum store "Henrits" a regular contributor to Making Music, Melody Maker, Rhythm, Modern Drummer and Drum magazines and more recently heavily involved with Arbiters drums demonstrating, marketing and designing them.
Bob has always been an honest and hands on drummer and his knowledge of the drum industry is second to none, lets see what he has to say!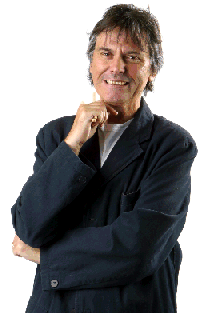 Your first major gig was Argent, how did that come about?
After I left school I began playing with Adam Faith and from time to time would sit in with all sorts of people one of which was an ex-traditional jazz band called The Mike Cotton Sound who had become a 'Rhythm and Blues' band with horns and they were great to play with. Eventually they asked me to join them but I was about to go to France for a year with a chanteur called Richard Anthony. So I declined but still kept in touch with Jim Rodford their bass player. I returned from France older and wiser and went on to play with Unit 4 + 2 (whose records I'd played on without being in the band) for a year or so. Jim Rodford called and said he and his cousin Rod Argent (from The Zombies) were putting a band together and would I like to be in it with Russ Ballard who'd played with me in bands since we were 13. The Zombies were retiring although they had recording commitments which we (who were soon to become Argent fulfilled) before launching wholeheartedly into our new gig. Argent signed to CBS/Epic and within days of finishing the first album we were on the road. After starting in the UK we went on to play just about everywhere in the world which would take a rock band. This was the beginning of what was known as 'Progressive Rock' which gave all the musicians in the early seventies the opportunity to expand their technique and overplay. It was great!
In the 70s we saw the launch of probably the first superstore drum shop in the UK "Henrits drum store" in the centre of London, how did that come about?
It was another one of these networking things. The first real record I played on was with an instrumental band called The Hunters some of whom went on to be in Adam Faith's band with me. Their original drummer though went in a completely different direction. Norman Sheffield set up a recording studio called Trident, a Video company called Trillion and at the same time he also managed 'Queen'. He had the lease on a building in London's Wardour Street, just up from the old Marquee. The Stones had the top floor, The Who had the middle floor and the ground floor and basement were up for grabs. So, we grabbed it. It was unique because outside of Professional Percussion in New York and Drum City in Hollywood we offered something which had not really been available before. Besides great drums for sale, we had a brilliant hire department, a repair department for customising, and a basement bar for drummers to network in. It lasted for almost 5 years and I still miss it. Everybody who was everybody came in and we had lots of fun. I sold Zak Starkey his first set and his dad (Ringo) demanded a discount.
You were still a very active drummer at the same time how did you manage a playing career and the running of a drum shop?
To be honest I managed, but with great difficulty. The good thing about it was I had somewhere to keep my drums in the west End and I was very handy for Trident studios and Marquee studios. It was the time of the Punk explosion and we frequently had record producers running in looking for a drummer immediately because the punk guy they were using wouldn't/couldn't play the song the same way twice. The idea was that since I was still actively on the road with bands and running round the world I'd be seeing all these great products and bringing them back for the shop. This I did very successfully for years until the advent of punk. We'd been purposely situated in the middle of all the record companies and as soon as the drummers had signed their recording contract they'd walk round to us to buy a new drumset. The punks though, who'd received the same advance against royalties as any other band didn't want to spend it on huge shiny drumsets. I don't actually know what they spent their money on but they used to ask for second-hand sticks and second hand heads! Our demise came soon after I came back to the UK after six months in the states with Don McLean and realised what the situation was.
For the past few years you have been working with Ray Davies and the Kinks how did that come about?
Networking again. I'd been playing in Blues Co. a 9 piece R and B band with Jim Rodford, Mike Cotton, Root Jackson and a load of pals who came in and out as deps when someone was on the road. Jim by this time had joined the Kinks while I was playing with the remnants of Argent now called Phoenix and various other guys like Ian Mathews, Ritchie Havens, Don McLean, Charlie, Roger Daltrey, Leo Sayer, Colin Blunstone, Ringo Starr, Russ Ballard and loads of others. So, Dave Davies was making his own album and Jim rowed me in on the project which was quickly followed by a second album. Anyway I was working at the Torrington with Blues Company looked into the audience and there was Ray Davies who'd come to see what I played like. He offered me the gig and that was it. I was immediately off to America after almost two days rehearsal!
What are some of your most memorable recordings and gigs?
There are a great many over the past 41 years so mostly it's the most successful records you remember. I suppose 'Concrete and Clay' with Unit 4 +2, 'The first Time' with Adam Faith, and of course 'Hold your head up' with Argent. But some of my favourites were not at all successful. 'Why won't they let us drummers sing' with Bobbie Elliott deserves honourable mention, as does just about everything I ever did with Ian Mathews and Colin Blunstone. As far as memorable gigs are concerned, many years ago (when I was about 17) I played at a Royal Variety Performance at the London Palladium that was an incredible experience, I also played with The Kinks at the Inaugural Concert for the Rock 'n' roll Hall of fame when everybody I had ever admired was on the bill, from Chuck Berry to Aretha Franklin and Booker T and the MGs. The show was evidently seen around the world by billions of people the next day via HBO. We once played to 500,000 people at the Festival of the Midnight sun in Turku, Finland. We went on at midnight and it was still light. I played with a guy named Sonny Curtis some time ago. He was Buddy Holly's guitarist and wrote songs for Buddy, the Everleys and a great many others. Playing 'Walk right back',' I fought the law' and 'Rocking with Ollie Vee' with the guy who wrote the stuff was a real thrill. This of course was a feeling I experienced every night when playing with the Kinks.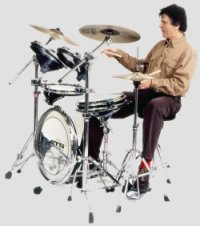 How did you get involved with the development of Arbiters drums?
In a previous life I was writing Ivor Arbiter's biography. He and I would get together a couple of times a week and he'd tell me his story. I'd known Ivor for many years and he'd shown me the prototype for what became the Advanced Tuning system at a show. While I was interviewing him the R and D for the system was going on around us. He asked me what I thought and having been caught up with the original Autotune drums when I had Drumstore I said he should make sure it worked and also that it looked like a drumset. This was because there was a set around at the time which Igfelt didn't look like a drum set and drummers weren't buying. This coincided with a lull in Kinks activities since Ray was pursuing a solo career which was pretty much my fault. In an unguarded moment I'd suggested he was the Noel Coward of our generation and the next thing we knew he had a showbiz manager and was knee-deep in legitimate theatre. But I digress Mr A. asked me if I wanted to be part of the AT thing and I said what would I do I'm the drummer with the Kinks. He said bring some pals in to see the system which I did. The next thing I knew having been part of the development I was the product specialist and demonstrating the drums at the NAMM show in America something which had never been part of my career path. If I was doing a gig which necessitated travelling I would invariably share a car and take a set of Melanie toms in one case to save space. So whilst messing around with a metal-shelled AT drum a light bulb went on in my head and I realised how we could chop an AT drum down just below the tuning system and have the world's Flatest, lightest and most portable drums – which tuned on a single screw. The rest is history.
I know you are still an active drummer what are you up to?
I respond to the telephone for gigs like most drummers and am very much aware of the American phrase "use it or lose it". So I put myself through hoops to do gigs and keep playing. Again it's down to networking so I mostly play with my usual mates, or friends of friends from my murky past. John Verity, who was in Argent with me and I have a 'power trio' which could be called Phoenix but is actually the John Verity band. We do gigs here there and everywhere but I've just put together a very big blues band catchingly called 'The Storey Henrit Big Blues Experience'. At the last count there were 14 of us in it but we seem to be expanding rapidly since the idea is to introduce guest stars for each gig! So far we're operating from the south coast since most of the guys live there. Only Richard Simmons the keyboard player and I live in London. So it's somewhat painful for us two when we rehearse. It's a great band though, with great players and a lot of fun – the way music's meant to be. Check us out on www.storeyhenrit.co.uk
Please log in below if you wish to add your comments on this item. If you are commenting for the first time, you will need to register for security reasons.