Carmine & Vinny Appice tour together
Classic rock hits London at the Camden Underworld with brothers Carmine Appice and Vinny Appice with Vanilla Fudge and The Lizards respectively.
This is the first time the Appice brothers have toured together - the last time they appeared together in the U.K. was in the late 1980's at a drum clinic held at Ronnie Scotts in Soho.

Both bands played to a captured audience and for 'classic rock' fans this was going to be a night of nostalgia and psychedelia.
Vinny Appice formerly of Black Sabbath and Dio appeared with his new 'rock' outfit - 'The Lizards'. The band (John Garnier - Vocals, Patrick Klein - guitar, Randy Pratt - Bass, Vinny Appice - drums) are on their second album 'Lizards Rule' and offered a retro feel with wailing vocals, guitar riffs, punchy basslines and a gutsy drumsound.
Vinny pounds the drums driving the band to get to the audience. The Lizards material was new to me but I pick out a couple of my favourite's ' The Rodeo' and 'Something Higher' - for the retro hearted it was perfect and a clear reminder of 'classic rock' rejuvenated!!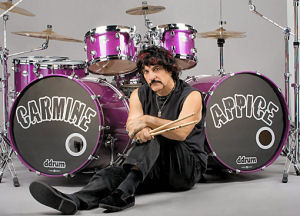 Carmine Appice recently received a Lifetime Achievement Award from SABIAN at the recent Winter NAMM show in Anaheim and deservedly so as he is one of the drummers who originated the art of 'rock' drumming. Carmine can boast a respected history from the early days of Vanilla Fudge, Cactus, Beck Bogart & Appice with guitar great Jeff Beck; then on to Rod Stewart discovering another side of his talent, songwriting - he penned two great hits for Rod 'Do Ya Think I'm Sexy' and 'Young Turks'. Onward to King Kobra, Blue Murder and a string of projects, Carmine now returns with the revived Vanilla Fudge. He's also a dedicated man to 'rock' culture, has a huge barrel of knowledge on 'rock' history and can be found included in 'A Thunder Of Drums', a story on legendary 'rock' drumming icon John Bonham. He continues to push the boundaries of his talents exploring new avenues and always aiming for something new.

A surprised appearance by the king of 'rock' psychedelia, Arthur Brown leaps on stage and introduces Vanilla Fudge. The new line-up for Vanilla Fudge is with original member Tim Bogert (Bass/Vocals), Teddy Rondinelli (Keyboards/Vocals), Bill Pascal (Guitar/Vocals) and Carmine Appice (Drums/Vocals). From the tight vocals of 'People Get Ready' to the driving 'Shotgun' and the classic 'You Keep Me Hangin' On', this was a night that wound back the clock for most.

As opposed to Vinny, Carmine uses his own 'Signature' cymbals mixed with hand-hammered SABIAN cymbals which fits in with his overall drum sound. This became evident when Carmine took his solo and shook the venue with the potency of his drumming still producing that power rock feel - loud, heavy and solid. Both Carmine and Vinny represented the anchormen of 'rock' and this was certainly evident tonight - true brothers in 'rock'.

A night to celebrate 60's and 70's nostalgia and 'heads down' rockers who will walk away saying "....those were the good old days!!!"

This London date is the beginning of their U.K. and European tour covering France, Belgium, Germany and Sweden - catch up with them!!
For more information: www.carmineappice.net, www.thefudge.com, www.thelizardswebsite.com

Jerome Marcus - words & photos

Please log in below if you wish to add your comments on this item. If you are commenting for the first time, you will need to register for security reasons.