Keith Harris & the Black Eyed Peas @ the Forum
A&M recording artists from Los Angeles 'Black Eyed Peas' hit London once again with their brand of urban funk, hip-hop, rap and reggae-dub. After last year's support slot with Christina Aguilera the band have exploded into the stardom hitting the U.K. charts with three top ten singles and their current platinum offering 'Elephunk'. With CD sales now topping 4 million throughout U.K. and Europe their profile has grown into recognition, it's no wonder that The Forum in London tonight is SOLD OUT to their full capacity of 2,000.
Keith Harris is the stickman who has over 400 worldwide shows under his belt with the band and is part of the nucleus of the band's 'live' sound. I caught up with him during their soundcheck late afternoon and experienced a 'jaw-dropping' display of high octane R 'n' B grooves and slammin' licks - this guy will make your head turn!!
His execution of speed and key point rhythm accenting was really impressive but in particular locking down the 'groove' and his sensitvity, timing and accuracy - not short of impeccable. His cymbal choice was interesting one. A cross between a Latin and Jazz Fusion set-up. His choice comes from the Sabian HHX Evolution range and flavored with the Latin 'El Sabor', 'Salsero' Ride and a pair of cutting 12" HH Hats His use of the 'piggybacked' 10" HH China Kang was statement-like and very innovative.

The lights go out and reggae/ragga star Tippa Irie introduces the 'Black Eyed Peas'. There is a short explosive drum introduction from Keith and the frontline members casually walk on stage to a hailed welcome and open up with 'Hands Up' then straight in with their current single, 'Hey Mama'. The band flaunted a slick performance - you could only be drawn to it. Their 'live' showcase can only be one to be experienced and includes an unashamed antic display of break dance and gymnastics to add to the 'wow' factor. Keith Harris is like a fuelled engine nailing the 'groove' contributing with his own visual performance with sticks spinning right up to their last number, the anthem-like single 'Where Is The Love?' (co-written with Justin Timberlake in the aftermath for 9/11 tragedy) - a great crowd sing-a-long.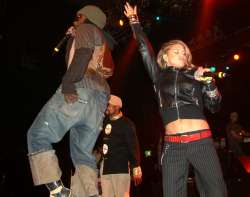 The encore contained a hard-hitting rhythmic jam incorporating their second single 'Shut Up!' and a feature spot for Keith to highlight his drum 'chops'. With an impressive display of tasty drum licks and speed supporting the 'groove', Keith now leaves his drum seat and solos on a snare drum held by drumtech Bobby who lures him to centre stage. Lying on his back Keith is still playing the drum (the crowd go crazy), then back up on his feet and finishes with a one handed drum roll (frenzied response from the audience) - respect!

With summer festivals Montreux Jazz 2004 and Glastonbury 2004, the band will consolidate their popularity and reach a wider audience. 'Black Eyed Peas' have raised the bar to the listening public beyond curiosity to establish themselves and is responsible for bringing their brand of R 'n' B to new heights.

Backstage we're joined by Aaron Fagan one of the Brit's rising new breed of drummers and he says "Keith Harris is an awesome drummer and more importantly he is such a humble human being - his personality really shows in his performance".

Check out 'Black Eyed Peas' and drummer Keith Harris (look out for him in 2004) - it's a wake-up call.

For more information: www.blackeyedpeas.com
Jerome Marcus - Words & Pics
Please log in below if you wish to add your comments on this item. If you are commenting for the first time, you will need to register for security reasons.